Book a hard waste collection
About this service
We now offer a bookable hard waste collection service. This has replaced the previous twice-yearly, shire-wide collection.
Every household in Cardinia Shire that gets its bins collected by Council can now book 2 free hard waste collections per calendar year. This applies to both property owners and renters.
Please read the 4 steps on this page before you book. The easiest way is to book online or call 1300787624.
This service is for green waste and household items that can't be reused. Before booking your collection, please consider offering items in good condition to charity, or selling them online.
You must book your collection before putting waste out.
Hard waste should be placed on your nature strip no earlier then the weekend immediately before your collection week.
Before putting your waste out, make sure you understand what will and won't be accepted for collection.
Additional hard waste collections (on top of the 2 free collections) can also be booked for a fee.
Step 1: Consider selling or donating good quality items
Before you book your collection, consider some more environmentally-friendly options for dealing with your hard waste. While e-waste, metals, tyres, tied green waste and mattresses collected will be recovered (that is, converted into other resources), all other items will go to landfill.
If you no longer want items but they are in good condition, give them a second life by:
donating them to a charity (always check with the charity first before dropping your items off)
giving them to family or friends
selling or giving them away via websites such as eBay, Gumtree, Facebook Marketplace, or in online community group pages, 'buy nothing new' or 'pay it forward' groups
holding a garage sale or selling unwanted goods at markets.
Step 2: Check what you can put out for collection - the 'YES' list
All items must be under 30 kilograms and less than 1.5 metres in length.
Pile 1: Whitegoods, metal and e-waste
Fridges, freezers (tape doors shut)
Whitegoods
Appliances
Scrap metal
E-waste (any electrical item with a battery or cord. Remove batteries first).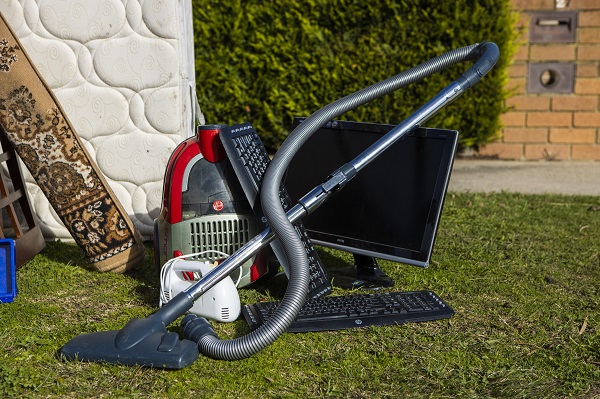 Computers, vacuums and appliances are examples of e-waste and should be put in Pile 1.
Pile 2: Tied green waste
Tree branches and prunings. These must be tied into bundles with string or twine. Each bundle must be less than 1.5m long and less than 30kg.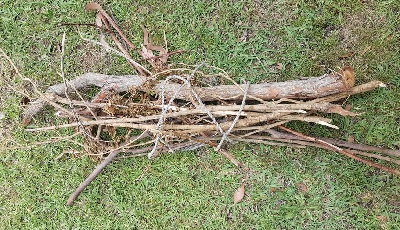 Branches tied together should be put in pile 2.
Pile 3: Household items
Household furniture
Mattresses and bed bases (up to 2 per collection; for example, 1 base and 1 mattress, or 2 mattresses). *Please make sure mattresses are easily accessible as they are collected separately
Hot water systems
Carpet (tied or taped into rolls of less than 1.5m and less than 30kg)
Small car parts. (no springs, engines, gearboxes or differentials)
Glass and mirrors (must be wrapped and labelled 'glass' or 'mirror')
Cardboard
Plystyrene/foam packaging
Paint tins (must be empty with lids off)
Timber pieces (must be less than 1.5 metres long and neatly stacked. No nails or staples)
Car tyres (maximum of 4)
Size allowed
Hard waste pile
Your pile must be maximum 2 cubic metres per collection (2 metres x 1 metres x 1 metres). This is approximately the size of 8 recycling wheelie bins.

Each item
Each item must weigh less than 30kg and be no longer than 1.5 metres in length.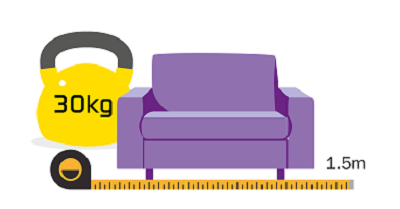 What we DON'T collect - the 'NO' list
To find out how to dispose of a wide range of household and garden items below, refer to our A to Z waste guide
Step 3: Book a collection
Please book in advance. Bookings are limited each week so please get in early. Bookings close on Thursday for collections the following week (subject to availability)
If you're moving house: Book a collection at least 2 weeks before your move out date, to ensure all waste is collected before you leave.
Phone bookings: You can also book by calling 1300 787 624 and following the prompts for hard waste.
When you book online or over the phone, you'll be asked to:
choose a collection week (during peak times, certain weeks may book out)
list the types of materials you want collected.
Step 4: Put waste out
IMPORTANT: You must book a collection BEFORE putting items out. If you don't, you may be fined up to $6,000 for illegal dumping.
Put items out the weekend before your collection week, no earlier. Putting items out early may result in a fine or others adding to your pile.
How to put items out
Put items out neatly arranged into three sections:
Whitegoods, e-waste and metal
Green waste
Household waste
Where to put your hard waste
Stack items neatly on your nature strip
Items must not block the footpath, driveway, fire hydrants or roads
When items will be collected
Anytime from Monday to Friday during your collection week. During busy weeks items may be collected on Saturdays.
Different types of material may be collected on different days by different trucks.
How to report a missed waste collection
Please don't report a missed collection until after Friday 4pm of your booked collection week.
To report a missed collection please call 1300 787 624 and follow the prompts for hard waste.
What to do if some of your items don't get collected
We may not collect some of your hard waste items:
if you put out too many items
if you presented items that we do not collect
if items are too big or heavy.
In these cases, some items may be left uncollected.
You must return these items to your property immediately.
Check our A to Z waste guide for options to dispose of these items, or book another hard waste collection if the items are on the 'yes' list.
How to change or cancel your booking
To cancel or change your booking, you must contact us 7 days before your booked date.
Changes and cancellations can only be made over the phone.
To change or cancel a booking: Call 1300 787 624 and follow the prompts for hard waste.
Book an extra paid collection
Your first two hard waste collections in a calendar year are free.
After that, you can book up to another two additional paid collections - which are $100 per collection.
Each household can book an additional 2 paid collections per calendar year, on top of the 2 free collections.
You can use the booking portal to check how many collections you've had this calendar year, and to pay for additional collections.
All rules and instructions about free collections (as stated on this page) also apply to paid collections.
What happens to my waste?
Hard waste items may be collected by different trucks at different times throughout your collection week. Our contractor delivers items for recovery or landfill.
Green waste
Turned into compost at Cleanaway's South East Organics Facility (watch a video about the facility)
E-waste
Taken to Scipher Tech or eWastec and processed for precious metal recovery and recycling.
Scrap metal
Taken to Scipher Tech or eWastec where items are sorted and processed for metal recovery and recycling.
Tyres
Are collected by a differenyt truck and sent to either TyreCycle for recycling and energy recovery. Your tyres may be used in playgrounds, construction or even a new road.
Mattresses
Are taken to Soft Landing where they are broken down and separated into each material type. One mattress may become roof sheeting, carpet underlay, mulch, kindling or acoustic panelling.
All other items
Are collected in a reloader truck and are taken to landfill. Please consider repairing, selling or donating quality goods before placing out for hard waste.
What to do if someone has added items to your pile
To prevent others adding to your hard waste pile, please only put items out the weekend before your booked collection - no earlier.
If someone has added to your items please contact us as soon as possible. The earlier you report it, the more likely we can arrange to have all items removed at the scheduled time.
What to do if you have a fire hydrant or port on your nature strip
If you have a fire hydrant or port on your nature strip you must not place waste on or in front of the hydrant. Please place your hard waste away from these features to ensure emergency services have access to them.