Stan Henwood Award
About the award
The Stan Henwood Award is presented each year to a person who has made a positive, long-term contribution to the Cardinia Shire community.
It honours the late Stan Henwood's lifetime contribution to the township of Tynong, and to the wider community.
Each year, nominees are invited to the annual Mayor's Volunteer Reception dinner in May, where the award winner is announced.
About Stan Henwood
Stan was heavily involved with the Tynong Hall Committee, Tynong Recreation Reserve Committee and the Make A Wish Foundation. He was also a life member of the Tynong Tennis Club, the West Gippsland Tennis Association, Tynong Fire Brigade and Tynong Progress Association.
In 1981 and 1990 he was recognised as the Cardinia Shire Citizen of the Year, as well as receiving a Citation for all Community Achievements.
Beyond Cardinia Shire's borders, he received a Medal from the Prime Minister for service to sport and an Order of Australia for Service to the Community.
It is this commitment to volunteering across a diverse range of organisations and indeed during most of his life that made Stan a standout member of our community.
2023 Stan Henwood Award winner
Jeffrey Latter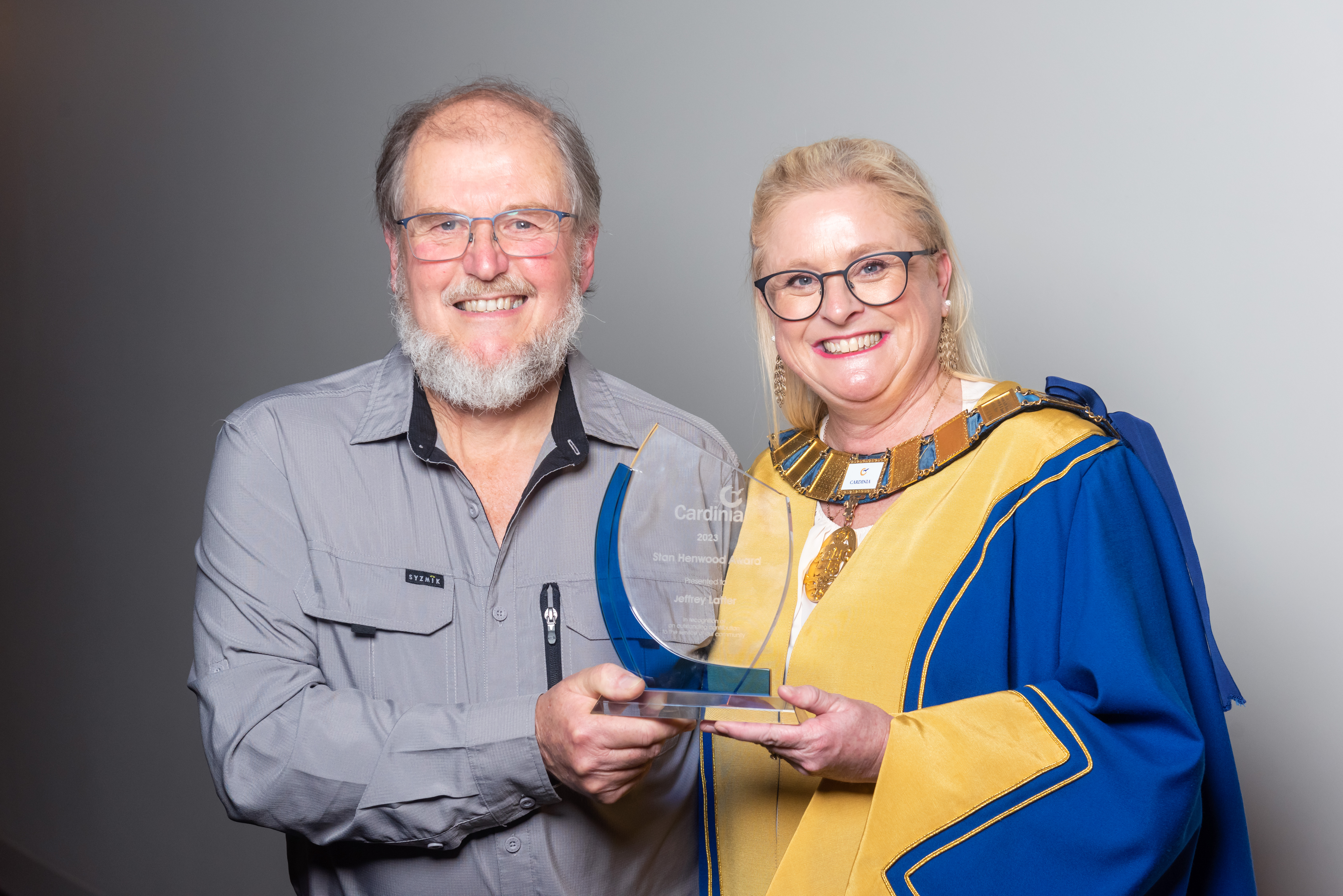 Jeffrey Latter is a committed, consistent and courteous member of every organisation to which he belongs.
He is described by those around him as amenable and persistent; qualities which have resulted in some of his greatest achievements.
Jeffrey is not only an accomplished leader of community groups, but he also exercises significant influence on committees. He brings his broad knowledge and skills to the table, representing his views with clarity and grace.
He has been a founder and key contributor to many environment, conservation and land care groups and initiatives.
He has also contributed greatly to Scouts and has received a number of awards in recognition of his community work.
Previous award winners
2022 – Tim Ahern
2021 – Helen Smith
2020 – Ken Rook
2019 – Wendy Andrews
2018 – Eric Bumpstead
2017 – Ray Coombs
2016 – Ron and Beryl Banbury
2015 – Graham Simpson
2014 – Colin 'Col' Leeson
2013 – Norma Jackson
2012 – Ron Topp
2011 – John Cascone
2010 – Bill and Robyn Kuys
2009 – Sue Beattie
2008 – William (Bob) Robert Farr
2007 – Tom Van Den Dungen
2006 – Bernie Berne
2005 – Robert Porter