Green waste bin
Key points
You'll soon be able to put all types of food waste in your green waste bin, along with your garden waste.
The green waste bin service is a paid, optional service. If you don't have a green bin, you can order one online.
You can start putting food in your green waste bin once your household receives the free 'food in green waste bin' starter kit. These will be delivered from late-September 2020.
Food and garden waste collected in your green waste bin gets turned into compost for Victorian farmers, instead of creating harmful greenhouse gases in landfill.
Your next green bin collection date is
Which one is the green waste bin?
The green waste bin has a lime-green lid and is collected every 2 weeks, on the alternate week to your recycling bin.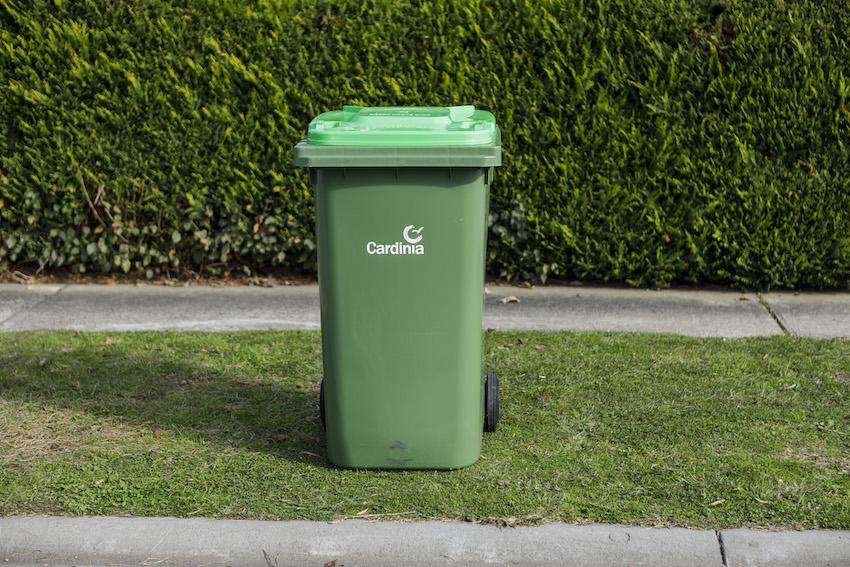 Order a green waste bin
From October 1 2020 all green bins ordered will come with the free 'food in green bin' starter kit.
Green bins will be available in 2 sizes, the standard 240-litre and a new smaller 120-litre size from October 1 2020.
If you are a ratepayer submit the online service request form below to order a green waste bin.
Visit Order a bin to view fees and place your order.
If you rent, please contact your landlord to request this service.
'Food in green waste bin' starter kit
If you order a green waste bin service, or your household already has one, you'll receive a free 'food in green waste bin' starter kit delivered to your home.
The starter kit includes:
a benchtop kitchen caddy to collect your food scraps
welcome letter
information flyer
sticker for your kerbside bin.
You'll receive your kit sometime between Monday 28 September and Monday 19 October 2020. Once the kit arrives, you can start putting food waste in your green waste bin.
YES! Put these items in your green waste bin
flowers
garden prunings
grass clippings
leaves
small branches
weeds
fruit and vegetable scraps and peel (including citrus, onion and garlic)
seafood and meat
bread, pasta, rice, cakes and pastries
dairy foods
eggs and egg shells
coffee filter paper and grounds
tea leaves (loose)
cooking oil and fats (absorbed in paper towel or newspaper)
nuts and seeds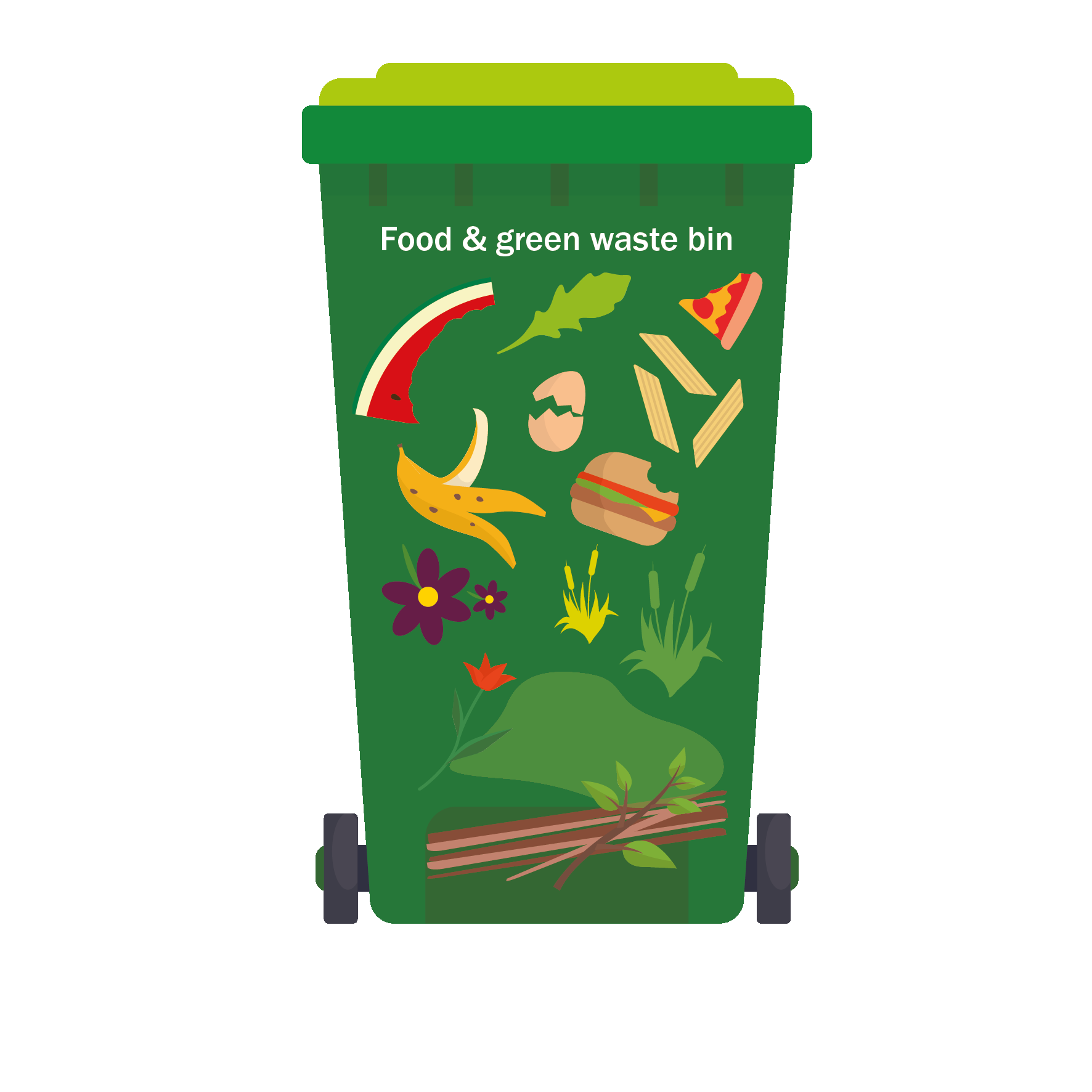 NO! Do not put these items in your green waste bin
bags (hessian or plastic)
clothes or shoes
cutlery or plates
general rubbish
food packaging (including compostable/biodegradable)
hazardous waste or chemicals
large logs or stumps
manure and animal waste
medical syringes
nappies or wipes
plant pots
recyclables
rocks, stones, soil or potting mix
stickers or rubber bands
treated timber
Tips for using your food and green waste bin
Kitchen caddy tips
Odours and smells are common with food, but by following these tips you can minimise smells and put all your food and garden waste to good use with confidence.
Let hot food cool down before putting it in your caddy.
Keep your caddy closed and out of direct sunlight.
Sprinkle bi-carbonate (baking) soda on top of food waste.
Empty your caddy every 2-3 days and rinse it after each use. For a more thorough clean you can use dish detergent or pop it in your dishwasher.
Freeze smelly or rotten food until the night before your collection.
Food scraps can be collected loose in your caddy and placed loose in the green waste bin. If you prefer, you can line your caddy with:

newspaper
paper towel (1 to 2 sheets will do)
serviettes or paper napkins
dry garden leaves
compostable liners (but it's good to try using the caddy without liners to cut down on waste).
Order compostable caddy liners
If you use liners, they must be certified to AS4736 standards – look for the logo.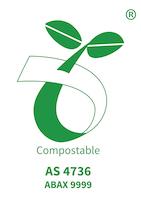 Australian Certfied Compostable logo AS4736
From 19 October you'll be able to order the caddy liners online from us, via an online form on this page.
Green waste bin tips
Add garden waste before food waste, to stop food sticking to the bottom of the bin.
Layer food waste in between garden waste. This will help to reduce smells.
Put your green bin out for collection each fortnight, even if it isn't full.
Keep your green waste bin in the shade.
Do not overfill your bin; make sure you can close the lid properly.
Let us know if your green waste bin lid is damaged, as a damaged lid won't contain smells properly.
Wash your bin out from time to time.
What happens to my food and garden waste?
Your food and garden waste in the green bin is taken to Cleanaway's South East Organics facility
It's then composted. As part of the process, the waste is decomposed using oxygen, which prevents the release of harmful substances and creates useful material to put back into the earth.
It is then turned into high quality soil conditioners to help grow food and gardens in Victoria.
Why using a green waste bin is good for the planet
If green waste goes to landfill, it decomposes without oxygen and produces gases including methane (which has a global warming potential 25 times greater than carbon dioxide).
Decomposition in this way also produces a liquid called leachate, which contains harmful substances and must be carefully managed.
Burning green waste releases air pollution and negatively impacts human and environmental health.
More info:
Getting rid of extra garden waste
Hard waste collection
You can get rid of larger amounts of garden waste using our bookable hard waste collection. Household in Cardinia Shire can book 2 free collections per calendar year. Garden waste must be bundled for these collections.
Green waste drop-off days
We offer free green waste drop-off days at recovery centres on selected dates. Currently held twice a year.
Other ways to use up food waste
Composting and worm farms
Composting your food and garden waste is one easy way to reduce landfill and protect the environment. Plus, you will get to enjoy the benefits of using your own compost, and your garden will thank you for it! Cardinia Shire residents can start their home composting with the help of rebates and workshops.
Share waste
If you don't have space for a composting system, or home composting isn't for you, but you want to keep food out of landfill, you might have a neighbour who is composting or has animals to feed and is willing to take your food scraps.
Visit ShareWaste to find someone in your neighbourhood who's willing to accept food scraps , or register to start accepting food scraps.