Listening to children in Cardinia Shire
Key points
This page has information on some of our initiatives in which we involve children in Council activities and decision making.
Cardinia Shire is a Child Friendly City. This UNICEF initiative recognises the community's youngest citizens. Child Friendly Cities are committed to listening and acting upon children's views and involving them in the decision making process.
Council endorsed the Victorian Child Friendly Cities and Communities Charter, and in doing so committed to listening to children's voices in Cardinia Shire, ensuring that children are given opportunities to be their best, and that they are valued, respected, celebrated and heard.
Almost 30 per cent of Cardinia Shire's population is children aged under 17 years, so it is vital that we include children in our decision making process. This gives children the respect they deserve and helps them feel connected and valued within their community.
What we do in this area is shaped by our Child, Youth and Family Strategy.
A child-friendly city (CFC) is a city, town, community or any system of local governance committed to improving the lives of children within their jurisdiction by realizing their rights as articulated in the UN Convention on the Rights of the Child.
Our Children's Ambassadors Program
We are excited to be the first Victorian council to appoint Children's Ambassadors. This is an important part of our commitment to listening to children's voices in Cardinia Shire, and making sure their concerns and ideas are taken seriously.
The ambassadors will be advocates for listening to, involving, and safeguarding the rights of children in the work carried out by each department across Council.
In October 2019, a number of Council staff and Councillors were presented with badges by local primary school students to formally declare them as Children's Ambassadors for Council. Selected by the local primary school students through an application process, the ambassadors will champion the voice of children in the community, provide leadership by influencing the outcomes for children, and be a positive role model through their work.
CEO for the Day
As part of this program, 1 Grade 6 students had the opportunity to shadow Council's CEO Carol Jeffs for a day in August 2019.
Students helped form the questions and information students needed to provide to apply, and in the development of a flyer promoting the program.
Students were able to apply in writing or by making a video and answering these questions:

What does being the CEO of Cardinia Shire Council mean to you?
Why do you want to be the CEO for a day?
Why should you be chosen?
Please note: This activity has been postponed for 2020 due to COVID-19.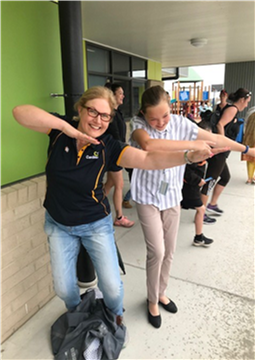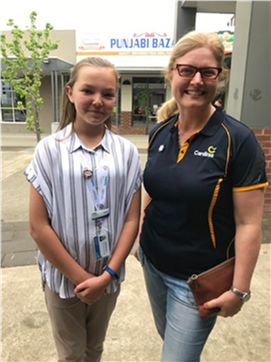 Student Leader's Conference