Building community resilience
About community resilience
Community emergency resilience refers to a community's ability to 'bounce back' after emergency events or very stressful events such as natural disasters, economic downturn, pandemics and other crises.
Connected communities are more resilient and have a higher capacity to withstand and recover from major emergency events.
Our role
We work with communities to build resilience by:
asking communities for feedback on, and helping them identify, their perceived risks
helping them to develop community actions in response to these risks.
Watch this page for information and updates on new projects.
Building community resilience in Upper Beaconsfield
Upper Beaconsfield Building Resilience pilot project
This project aimed to build the resilience of the Upper Beaconsfield community through engagement and community strengthening activities.
Through forums and community surveys conducted in 2018, residents were asked to identify their strengths as a community, and to think about what they could do to become more resilient.
Biggest perceived risks identified
95% of survey respondents identified fire and extreme weather events as the biggest perceived community emergency risks.
Many respondents said strengthening community connections was important for building resilience in the local community.
As a result of this community feedback, the Upper Beaconsfield Fuel Management Project was developed. Council is also supporting the Upper Beaconsfield Community Centre to hold a Neighbour Day event on March 31st 2019.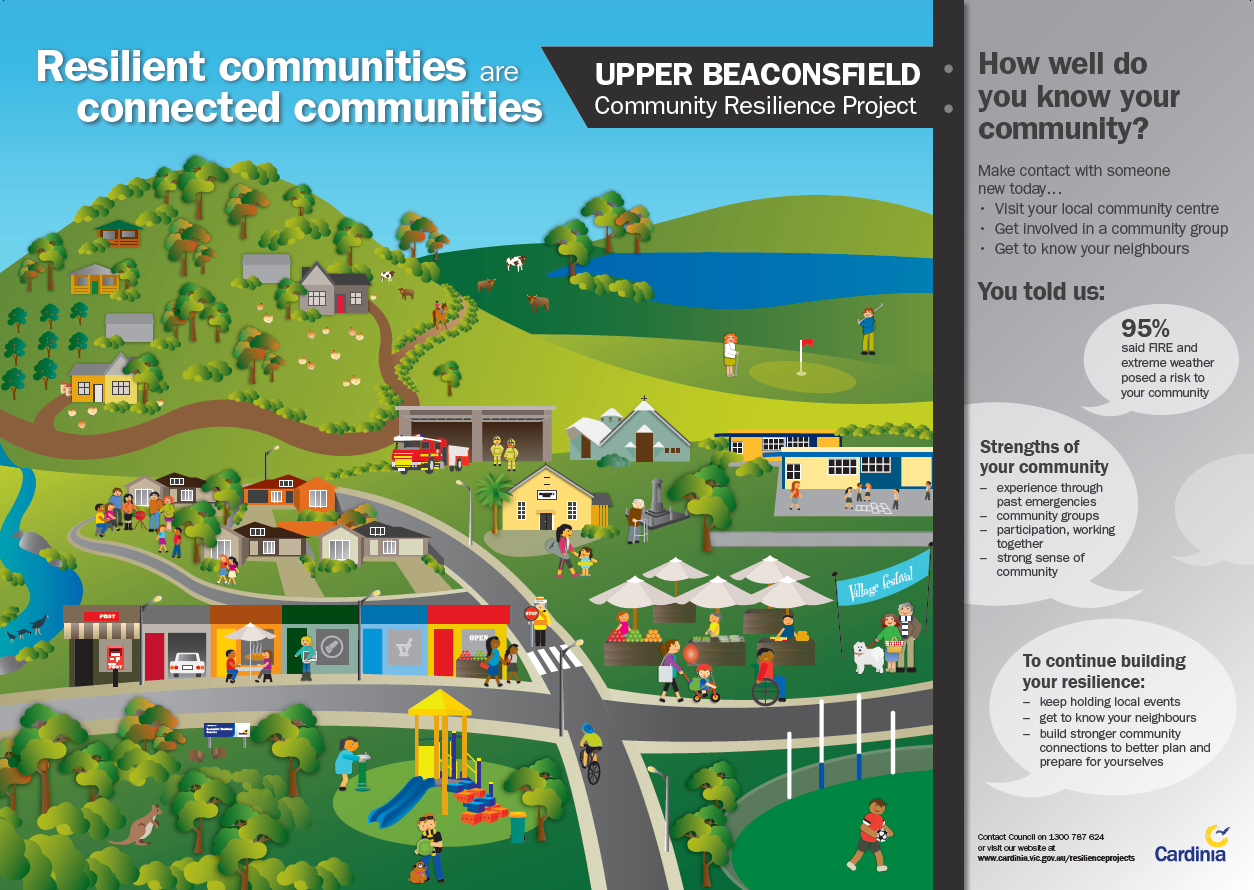 Upper Beaconsfield Fuel Management project
As a result of community feedback received as part of the Upper Beaconsfield Building Resilience pilot project, the Upper Beaconsfield Fuel Management Project is has been developed to address bushfire risks across public and private land. A community stakeholder committee has been formed to develop community actions. An information day to assist community to decide on the most appropriate community actions will be held in March.
Upper Beaconsfield Fuel Management Information Day
This event is open to all residents with speakers from the Country Fire Authority (CFA), Department of Environment, Land, Water and Planning (DELWP), Emergency Managment Victoria (EMV) and Council.
Date: Sunday 31 March 2019
Time: 9am – 12pm
Venue: Upper Beaconsfield Community Centre
Download the Upper Beaconsfield Fuel Management Information Day event poster
Have your say
We invite you to have your say on proposed ideas and activities for this project.
To submit your feedback go to the Have Your Say page. Feedback closes 5pm, Sunday 17 March 2019.
Get involved
To become involved in understanding and building resilience before, during and after emergencies in your community, contact us at mail@cardinia.vic.gov.au or 1300 787 624.