Clematis and Menzies Creek Bushfire Preparedness Project
About
Cardinia Shire Council and Yarra Ranges Council worked with the communities of Clematis and Menzies Creek to:
develop a shared understanding of the current level of bushfire and emergency preparedness in Clematis and Menzies Creek
increase bushfire preparedness in the Clematis and Menzies Creek townships
promote a culture of working together, including councils with other councils, councils with fire and environment agencies, and the communities of high bushfire risk-townships that share a municipal boundary
foster leadership within those communities and identify local solutions to bushfire risk
increase community connectedness.
This 2019 project was funded by the Victorian Government's Safer Together Program and the CFA.
Project team and methodology
The project team was comprised of representatives from Cardinia Shire Council and Yarra Ranges Council, with cross agency collaboration with CFA and DELWP.
At all stages of the project, the community was responsible for decision making, with Council and fire agency representatives providing expert advice and information in support.
Input from the local primary school, CFA's and other community groups also helped to guide initial survey development.
The survey highlighted that:
having a better understanding of local bushfire risk information
creating a fire plan
having an evacuation kit
would increase individual bushfire preparedness levels in the local community.
Project outcomes
Increased community engagement about emergency management
More in-depth consultation and community engagement in the Clematis and Menzies Creek
communities has happened during the project.
Some of the positive outcomes include face-to-face surveying, regular stakeholder updates and
opportunities for the community to have input into local issues and shape the workshops.
Established that both communities want to work together
We asked for community feedback to establish that the 2 townships were happy to be recognised as one project group for the duration of the initiative.
Increased understanding of the community's perceived bushfire risk and preparedness
We conducted in-depth surveys with the community to gauge perceived local bushfire risk and preparedness.
Survey responses were high – around 1 in 10 adults in the community responded.
Survey also asked for input on the types of workshops/capacity building exercises that would best help to increase bushfire preparedness.
Data based on community consultation available to community, Council and agencies
The collated data from the surveys was shared between councils and with relevant agencies. Community members who wanted to be regularly updated were added to the stakeholder communication list and continued to get project updates.
The top 3 actions that the community identified would help raise their bushfire preparedness: Fire risk information, fire plans and evacuation kits.
Bushfire risk information tailored to specific community needs developed
Working with the local school
Council and the CFA delivered tailored information to Menzies Creek Primary School, based upon the survey outcomes.
Postcard design competition
A postcard design competition was held at the school. The best 2 designs were printed with key CFA messaging on the back. These were distributed to the local community to help spread preparedness messages.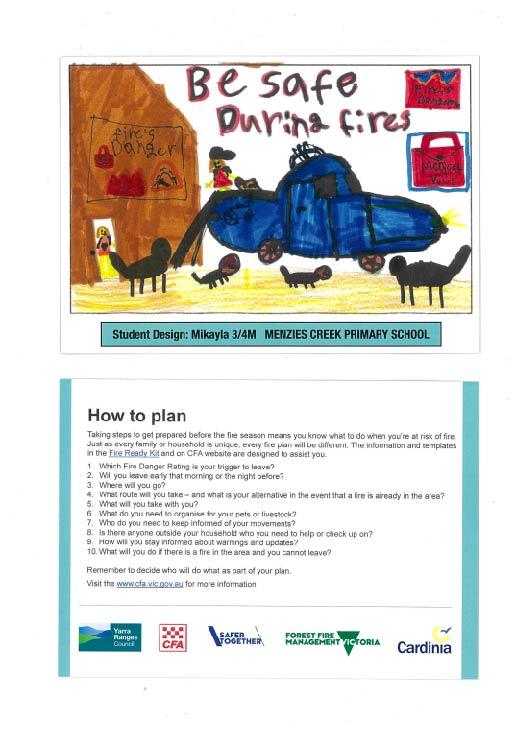 Winning design of postcard design competition, with CFA messaging.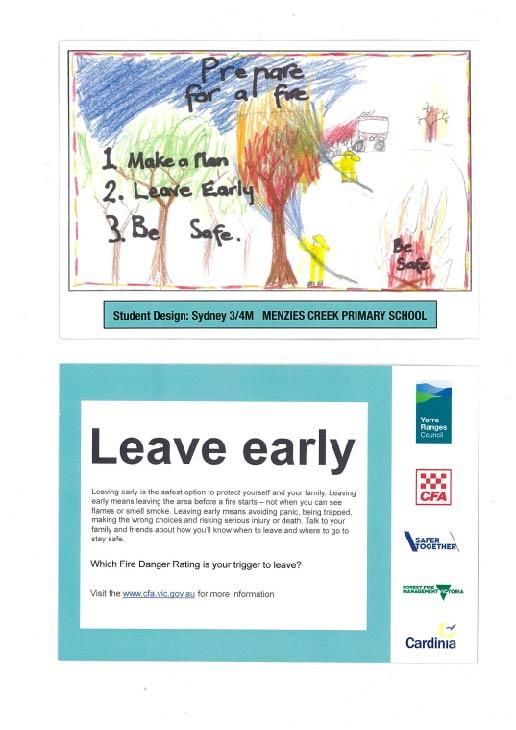 Second winning design of postcard design competition.
Community workshop
The evening workshop featured info for the community on:
bushfire-risk modelling developed by Cardinia Shire Council and the Department of Environment Land Water and Planning (DELWP)
fire plans
putting together an evacuation kit
The Red Cross also delivered a pillowcase evacuation kit session for children at the workshop.
Participants received:
materials and information to help build their own evacuation kits
pre-loaded USB sticks with relevant preparedness information resources and space for users to upload important documents to keep in the kit.
Increased community understanding of bushfire risk and preparedness
At the end of the workshop, community were asked to rate their knowledge of local bushfire risk and also their level of preparedness and that of their community.
After the workshop, survey results showed the community felt significantly more prepared for a bushfire.
Local community leaders are championed
Council will soon start promoting the stories of local people as examples of good bushfire preparedness.
Read the project outcomes flyer