Building community resilience
About community resilience
Community emergency resilience refers to a community's ability to 'bounce back' after emergency events or very stressful events such as natural disasters, economic downturn, pandemics and other crises.
Connected communities are more resilient and have a higher capacity to withstand and recover from major emergency events.
Our role
We work with communities to build resilience by:
asking communities for feedback on, and helping them identify, their perceived risks
helping them to develop community actions in response to these risks.
Watch this page for information and updates on new projects.
Building community resilience in Upper Beaconsfield
This project aimed to build the resilience of the Upper Beaconsfield community through engagement and community strengthening activities.
Through forums and community surveys conducted in 2018, residents were asked to identify their strengths as a community, and to think about what they could do to become more resilient.
Biggest perceived risks identified
95%

of

survey respondents identified fire and extreme weather events as

the

biggest perceived community emergency

risks.

Many

respondents

said

strengthening

community

connections

was

important for building resilience in

the

local

community.
As a result of this community feedback, the Upper Beaconsfield Fuel Management Project was developed. Council is also supporting the Upper Beaconsfield Community Centre to hold a Neighbour Day event on March 31st 2019.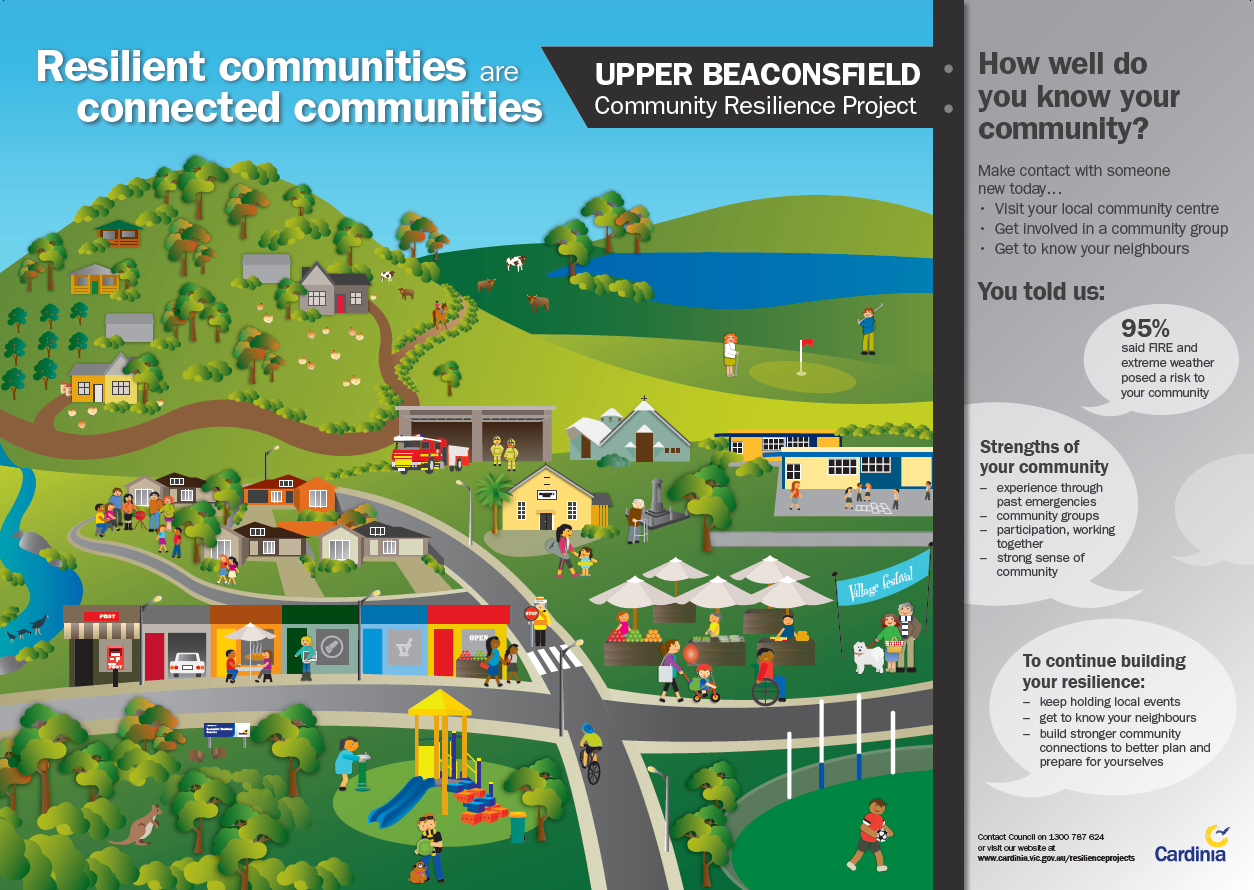 Upper Beaconsfield Fuel Management project
The Upper Beaconsfield Fuel Management Project aims to address bushfire risks across public and private land. It has been developed based on the community feedback received in the Upper Beaconsfield Building Resilience pilot project.
A community stakeholder committee has been formed to develop community actions. Currently, it is developing community-specific fuel management actions for implementation.
An information day was held in March to provide the most up-to-date data and advice to community.
Upper Beaconsfield Fuel Management Information Day
The Upper Beaconsfield Community Fuel Management Information Day was held on Sunday 31 March at the Upper Beaconsfield Community House.
This event aimed to provide residents and project members with:
expert information in regard to fuel management strategies
bushfire risk of Upper Beaconsfield
the effect fuel management could have on these risks.
The day was well attended, with 37 community members attending.
Survey results from the Information Day was positive:
81% of participants said they learnt something new
49% said they spread own knowledge
65% felt better prepared for the future
59% agreed the event expanded their community network.
Find out more in the full Information Day report.
Online forum outcomes
The Upper Beaconsfield Have Your Say page allowed community members to share their ideas for bushfire fuel management.
An online forum was open for 1 month from 17 February to 17 March 2019. It was launched with a drop-in stall at the Upper Beaconsfield Festival and sucessfullyengaged a large number of Upper Beaconsfield residents.
The online forum generated:
47 ideas (11 idea authors)
42 vote (7 voters)
16 comments (4 commenters)
1264 page views (358 unique visitors)
Top themes in the ideas and votes of the forum:
Top themes

| Theme | Number of Ideas/Votes |
| --- | --- |
| Open Air Burning | 13 |
| Planning Rules | 12 |
| Roadsides | 11 |
| Public Land Management | 9 |
| Public Education | 8 |
| Private land Management | 6 |
| CFA Support | 5 |
| Green Waste | 5 |
| Weed Management | 3 |
Full online forum report
View more information on the online forum in the 'our Say' Feedback Summary report.
Community Fuel Management Working Groups
The Upper Beaconsfield Fuel Management Project Community has created the following working groups based on the feedback from the online forum and the community information day:
Increasing community/fire guard groups
Implementation Fuel Management Zoning and Actions Guide.
Open Air Burning Advocacy.
The community has identified these topics as their priorities.
These working groups will be meeting during the next 2 months to create action plans and project summaries to facilitate the implementation of these actions in the future.
Stakeholder Updates
Download and view the latest Upper Beaconsfield Fuel Management project stakeholder updates.
Menzies Creek and Clematis Community Strengthening Bushfire Project
We have a great opportunity to work with Yarra Ranges Council to help community increase their bushfire preparedness in the Clematis and Menzies Creek townships. Collaborating with the local CFA, schools and other community bases, we are learning what community feels it needs to be more bushfire prepared and tailoring workshops based on this feedback. This project is supported by Safer Together and CFA.
We are asking community about their level of bushfire preparedness and perceived bushfire risk through the online forum that is on our Have Your Say page.
This survey will also be conducted face to face in the townships and closes 5pm 7 July 2019.
The survey data will inform what community would like to do to increase their bushfire preparedness.
Based on this information, Council will design workshops with the local CFA's to increase knowledge and increase community connectedness.
Council will also deliver workshops in the local school and hold a competition to showcase the top two key messages on a postcard.
Get involved
To become involved in understanding and building resilience before, during and after emergencies in your community, contact us at mail@cardinia.vic.gov.au or 1300 787 624.