Gardens for Wildlife program
Key points
Gardens for Wildlife is a free program for Cardinia Shire residents, showing you how to create a garden that attracts wildlife and improves its habitat.
The program is a partnership between Cardinia Shire Council, Landcare networks, 'Friends' groups and local volunteers.
We acknowledge the assistance of Gardens for Wildlife Victoria and founding program Knox Gardens for Wildlife.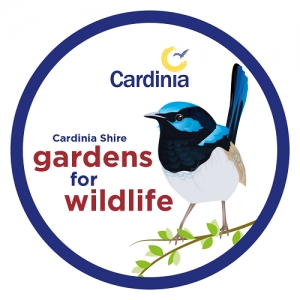 Register to participate
Due to COVID-19 restrictions, registrations are currently closed.
After registering your interest, a volunteer garden guide will contact you to arrange your free garden visit. The garden guide will provide you advice on how to create your wildlife-friendly garden, including:
suggestions on what to plant in your garden
water saving tips
garden design ideas
weed control tips
The garden guide will provide you with:
a letterbox sticker – display this proudly to encourage your neighbours to join the program, so you can join together to create corridors of wildlife-friendly gardens!
a local plant guide
a weed control guide
weed dabber bottle
Your garden guide will then send you a follow up email with tips and suggestions for your garden.
Letterbox sticker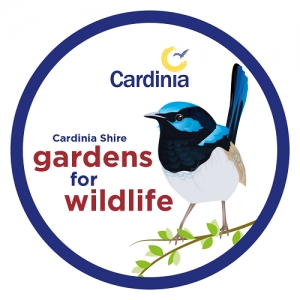 Factsheets to help you create your garden for wildlife
While you are waiting for your assessment, or if you are in a township that is not currently covered by our volunteers, check out our Gardens for wildlife factsheets.
Our factsheets provide information on how to create a frog pond, cat safe bird baths, butterfly attracting plants, weed control, plus much more. We also have factsheets on how to design a garden in a contemporary, cottage, formal, or green lush style using indigenous plants.
Become a garden guide
Do you have an interest and knowledge on wildlife gardening? Do you enjoy sharing your knowledge with others? How about becoming a volunteer garden guide! Training and support is provided.
For more information contact the Environment and Heritage team on mail@cardinia.vic.gov.au
Other resources
Down to earth e-newsletter
When you register your interest you can choose to join the mailing list for our Down to earth bi-monthly e-newsletter. The e-newsletter provides local environmental news, plus tips and tricks to improve your wildlife garden.
Indigenous plant guide
Indigenous plants are ones that grow naturally in the area and so need less water, less fertiliser and less maintenance.
Our indigenous plant guide will help you to select plants that will grow best where you live because they suit local rainfall and soil types and provide habitat for native animals.
For every square metre of irrigated lawn you replace with a mulched bed of indigenous plants you save 400 litres of water per year!
Local indigenous nurseries list
Indigenous plants are not commonly available at your local nursery or hardware store.
View local indigenous plant nurseries here – these are staffed by volunteers who can help you choose the best plants for your garden.
Saving the Southern Brown Bandicoot
If you live in Bayles, Bunyip, Cora Lynn, Garfield, Heath Hill, Iona, Lang Lang, Maryknoll, Monomeith, Koo Wee Rup, Tynong or Yannathan, find out how you can help save our endangered Southern Brown Bandicoot