Temporary road closures, disruptions and detours
About
This page has information and contact details about temporary disruptions due to works in Cardinia Shire being conducted by Council.
For info about works being done by other agencies (including the Monash Freeway upgrade) visit Road and rail projects by other agencies.
Intersection works in Beaconsfield
Upgrades to Old Princes Highway intersection at O'Neil Road
Right turn onto Old Princes Highway (towards Beaconsfield): Currently closed until further notice.
Old Princes Highway: 2 lanes operating in each direction. Temporary closure of one lane as required
O'Neil Road: New roundabout is fully operational.
Please obey all signs and instructions from traffic management staff, to keep all drivers, pedestrians and contractors safe.
To find out more about the works: Visit the Princes Highway intersection upgrades web page
McGregor Road and Greenhills Road, Pakenham
These roadworks are taking place in Pakenham between May 2021 and March 2022:
McGregor Road – Road construction between Southeast Boulevard and Greenhills Road
Greenhills Road (west extension) – Road reconstruction
Council has appointed approved contractors to carry out the works.
Road closures, detours and traffic control measures in place
While the works are being done, these road closures and detours will be in place.
Greenhills Boulevard (west extension)
Road closed. Traffic will be detoured via Southeast Boulevard onto Koo Wee Rup Road.
Please follow all traffic control signs and instructions to keep motorists and contractors safe.
Officer South Road – Rix Road – Bridge Road, Officer
These works, road closure and detours are being undertaken by Satterley (developer) contractors. For more information contact Satterley Customer Service via email customerservicevic@satterley.com.au
The following road closures will be in place starting in October 2020 until end of December 2021. Works are for major intersection and road upgrades.
Officer South Road between Hickson Road to Freeway bridge
All 3 legs (north, east and west) of the Officer South Road-Bridge Road – Rix Road intersection will be closed
Detours
Detours will be in place during the works.
Rix Road traffic (eastbound/westbound) traffic will be diverted through Campanella Avenue, Flanagan Avenue and via Parker Street to Bridge Road.
Officer South Road traffic (northbound/southbound) will be diverted via Peck Road to Cardinia Road.
View full sized image of the detours map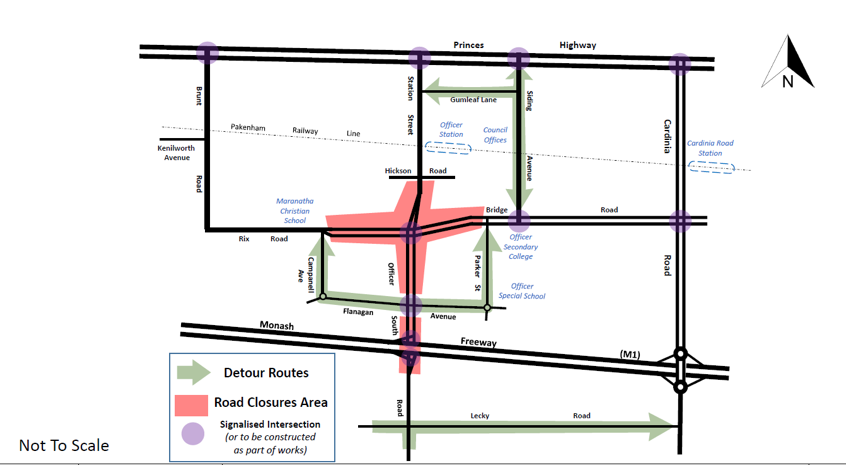 Reason for closure
Officer South Road – construction of dual carriageways between Hickson Road to south of Freeway bridge.
Officer South Road – construction of new freeway ramps (inbound and outbound) to create new freeway interchange.
Rix Road – reconstruction of north side of Rix Road between Officer South Road and Campanella Avenue.
New signalised intersections at the following locations:
Officer South Road – Rix Road – Bridge Road
Officer South Road – Flanagan Avenue
Princes Freeway exit ramp
Princes Freeway entry ramp