Temporary road closures
About
This page has information and contact details about temporary road closures across Cardinia Shire.
O'Neil Road, Beaconsfield
The upgrade of the O'Neil Road and Princes Highway intersection at Beaconsfield, one of our Better Local Roads projects, will be completed in 2 stages.
Traffic management will be in place on both O'Neil Road and Princes Highway until the end of the project.
Stage 1 works
Now complete. Detour has been removed.
Stage 2 works
Now underway and expected to run until end of May 2021. No road closures or detours are in place for this stage.

Officer South Road – Rix Road – Bridge Road, Officer
These works, road closure and detours are being undertaken by Satterley (developer) contractors. For more information contact Satterley Customer Service via email customerservicevic@satterley.com.au
The following road closures will be in place starting in October 2020 until end of December 2021. Works are for major intersection and road upgrades.
Officer South Road between Hickson Road to Freeway bridge
All three legs (north, east and west) of the Officer South Road-Bridge Road – Rix Road intersection will be closed
Detours
Detours will be in place during the works.
Rix Road traffic (eastbound/westbound) traffic will be diverted through Campanella Avenue, Flanagan Avenue and via Parker Street to Bridge Road.
Officer South Road traffic (northbound/southbound) will be diverted via Peck Road to Cardinia Road.
View full sized image of the detours map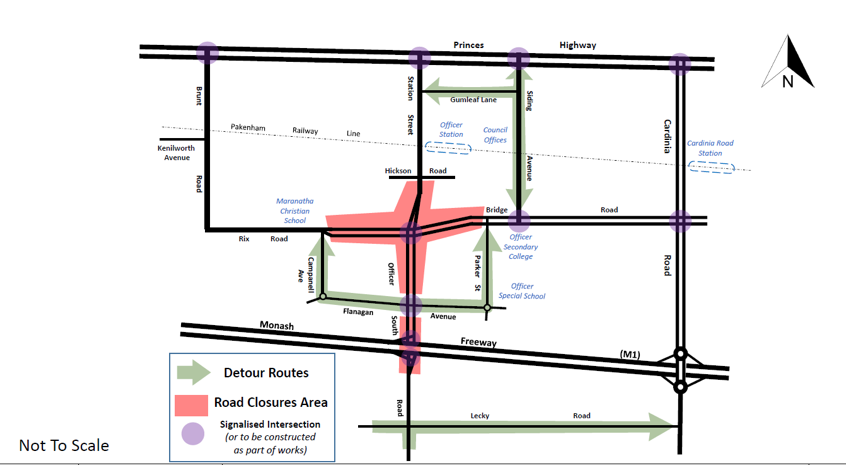 Reason for closure
Officer South Road – construction of dual carriageways between Hickson Road to south of Freeway bridge.
Officer South Road – construction of new freeway ramps (inbound and outbound) to create new freeway interchange.
Rix Road – reconstruction of north side of Rix Road between Officer South Road and Campanella Avenue.
New signalised intersections at the following locations:
Officer South Road – Rix Road – Bridge Road
Officer South Road – Flanagan Avenue
Princes Freeway exit ramp
Princes Freeway entry ramp