Booking Cardinia
Key points
Welcome to Booking Cardinia – Cardinia Shire Council's new online booking request site!
We have a range of indoor and outdoor spaces available for hire in Cardinia Shire, including community halls, meeting rooms, club rooms and spaces in parks and reserves. These can be hired for one-off or recurring activities including community meetings and events, playgroups, parties and health & fitness.
You can make booking requests for most Council-managed facilities via Booking Cardinia, including these major Council venues. (But before you do, please read the information on this page).
Go to the Booking Cardinia site Provide feedback on the site
How to use the Booking Cardinia site
The Booking Cardinia site is for making booking *requests* only - not actual bookings. Your booking request is not a confirmation of a booking. Our team will contact you to discuss your booking request.
Once your booking request is submitted, you will be contacted within 7 days. Booking requests must be made at least 3 business days in advance.
To request a quote for hire: Make a booking request on Booking Cardinia. You'll need to accept the quote to finalise the booking.
How to find the right space for your event
I don't have a particular space in mind, so just want to browse suitable spaces
Use the search bar at the top of the page
Start your search by entering the mandatory fields:

the date of your event
the event time
the number of attendees you expect at your event.

You can leave the remaining fields blank, or use the extra filters, before hitting 'Search'.
Browse through spaces to see images and activities available at each space.
After you have found your preferred space/s – tap the 'Enquire' button, enter your details, then submit.
I have a preferred space
Start with the 'Availability Calendar'
Select the venue/s you want to book in the drop-down menu.
Browse to the date/s you are interested in (if you want to see more dates at once – then toggle to the 'Month' view).
Note which venues show as available.
Complete your venue booking request using the venue search option above.
The availability calendar in the Booking Cardinia site.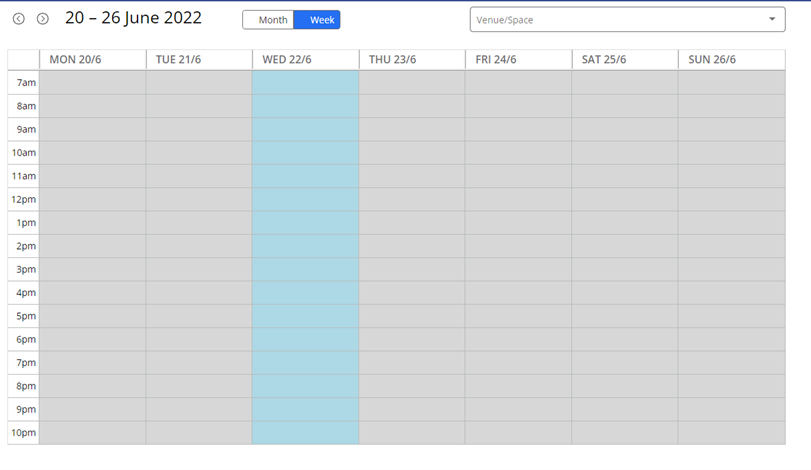 Estimated fees for spaces featured in Booking Cardinia - COMING SOON
Fees and charges for the most popular spaces to hire on Booking Cardinia will be listed shortly. Reduced rates for community groups may apply.
Prices are subject to change and may vary depending on your circumstances.
You may need to pay a bond for some venues (which may be up to $1000). You will be advised of the bond amount before the booking is confirmed. The bond amount will be returned to you if the space is found to have no damage after your event. View facility hire terms and conditions here.
Please provide your feedback on the Booking Cardinia site
Booking Cardinia is a new site and we are still refining it. If you have any feedback on the site, we'd love to hear from you - please complete the online feedback form