Preventing elder abuse
What is elder abuse?
Elder abuse is an emerging form of family violence. It is any act that causes harm to an older person, carried out by someone they know and trust such as a family member or friend. The abuse may be physical, social, financial, psychological or sexual and can include mistreatment and neglect.
Elder abuse is vastly under-reported but the World Health Organisation estimates that up to 10 per cent of older people worldwide are affected.
Friday 15 June is World Elder Abuse Awareness Day (WEAAD), as declared by the United Nations General Assembly.
Fridge magnets available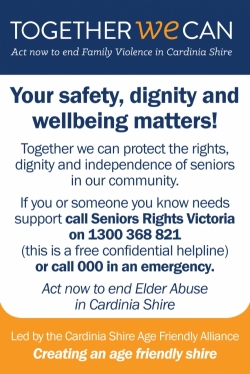 Cardinia Age Friendly Alliance Group will be distributing fridge magnets to raise awareness of elder abuse in June 2019. Magnets will be available from libraries and medical clinics throughout the shire or by calling us on 1300 787 624
The magnets will help raise awareness of elder abuse, start important conversations and empower you with information.
Our work in this area
Cardinia Shire is experiencing rapid growth of its ageing population. The Cardinia Age Friendly Alliance Elder Abuse Project is funded by Together We Can's grant from the Victorian Government's Community Partnerships for Primary Prevention Grant.
Warning signs of elder abuse
These may include:
an older person seeming fearful, anxious or isolated
injuries, or an absence of personal care
disappearance of possessions
unexplained financial transactions
sudden changes to a will, property title or other documents.
What to do if you are affected by elder abuse
If you or someone you know needs support call Seniors Rights Victoria on 1300 368 821 (this is a free confidential helpline) or call 000 in an emergency.
More information