Deep Creek Reserve
Golf to return to Deep Creek Reserve in Pakenham
Council has entered into an agreement with Golf Services Management to operate and maintain the golf course at Deep Creek Reserve in Pakenham.
For more information: visit www.pakenhamgolf.com.au
About Deep Creek Reserve
Deep Creek Reserve in Pakenham is Cardinia Shire's exciting new outdoor space. A place of environmental significance, Deep Creek Reserve offers people of all ages and abilities many ways to learn, play and get active.
Deep Creek Reserve has:
demonstration and sensory gardens
walking paths.
This $12 million project was funded by Council's capital works program and a $2.825 million grant from the Victorian Government's Growing Suburbs Fund.
Deep Creek Reserve demonstrates best practice in environmental sustainable design.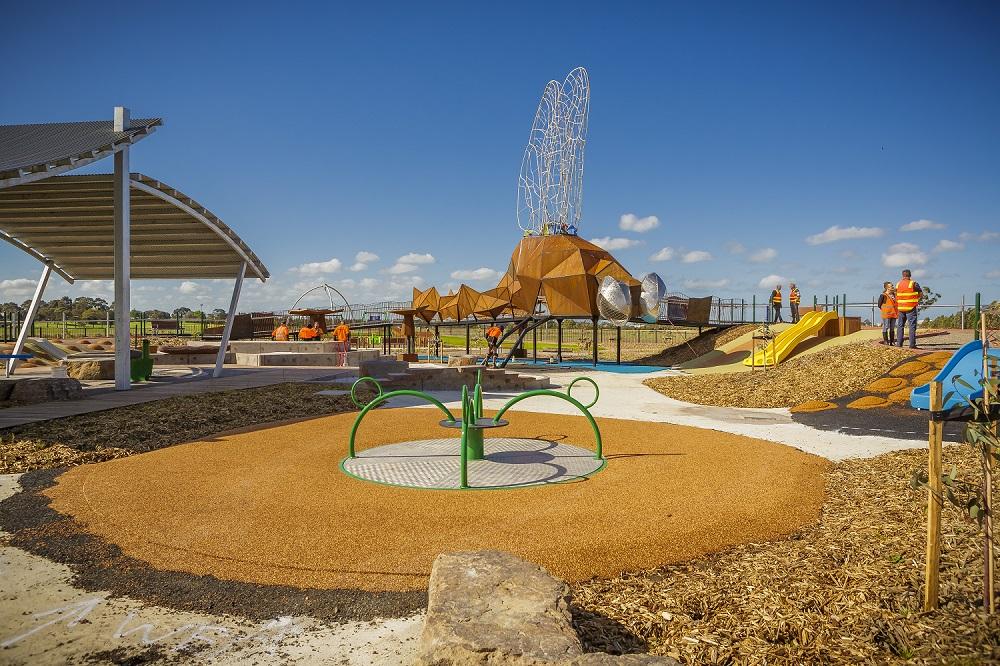 Location
End of Cameron Way, Pakenham
Getting there
Car
Reserve entrance and carpark: End of Cameron Way, Pakenham.
Parking: 171 car parks, including 10 disabled parking spaces. Parking is also available in surrounding streets. Please consider the neighbours as you arrive at and leave the reserve.
Bus
Via bus route 929 (bus stop at 45 Cameron Way).
On foot or bike
Bike and pedestrian access via:
Cameron Way
Barrington Drive
Oakview Drive.
The reserve's walking paths connect with footpaths along Pakenham Creek, Cameron Way, Barrington Drive and Oakview Drive.
View site map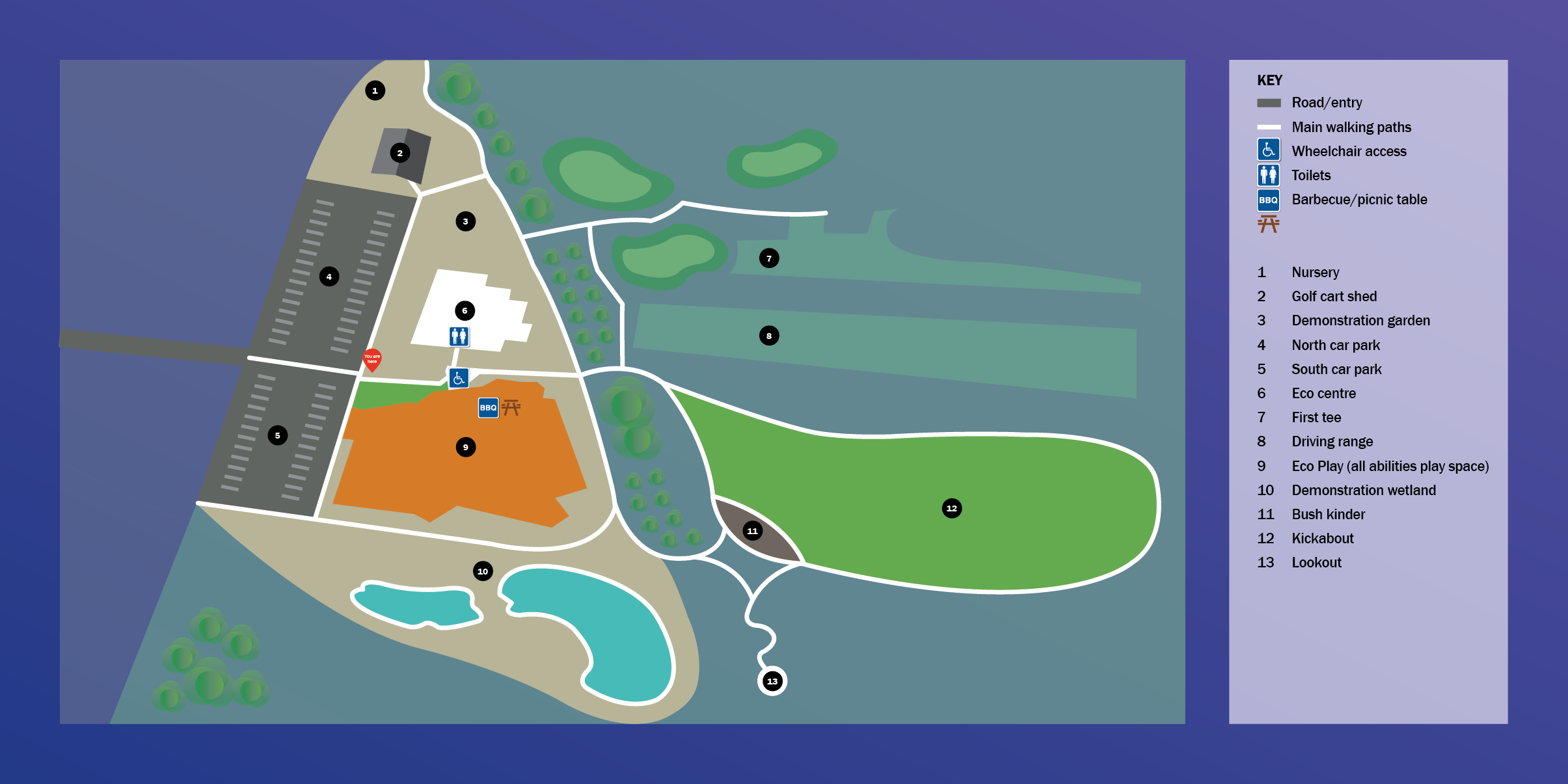 You can also view the full sized image or download as a PDF.
Cardinia Environment Coalition native plant nursery
Managed by Cardinia Environment Coalition (CEC) volunteers, the nursery includes:
indigenous plants for sale (that is, plants native to the Cardinia Shire area)
display gardens
an outdoor education space
propagation facilities
irrigation
shade houses
greenhouses for growing plants.
The friendly volunteers can give you advice on the best plants for where you live, so you can create a beautiful, wildlife-attracting garden.
For more information including opening times: CEC Nursery
All-abilities play space and water play area
The play space is a place to play, learn, get physically active, and enjoy sensory exploration.
The play space includes:
exciting play equipment and striking structures
sand and water play areas
shelters
the 'Bush Kinder' outdoor classrooms
sensory garden (recently planted, so will still be in establishment phase at the opening)
barbecues and a drinking fountain
indigenous plants.
The centre piece of the playground is the giant dragonfly which was designed by Benjamin Gilbert from Agency of sculpture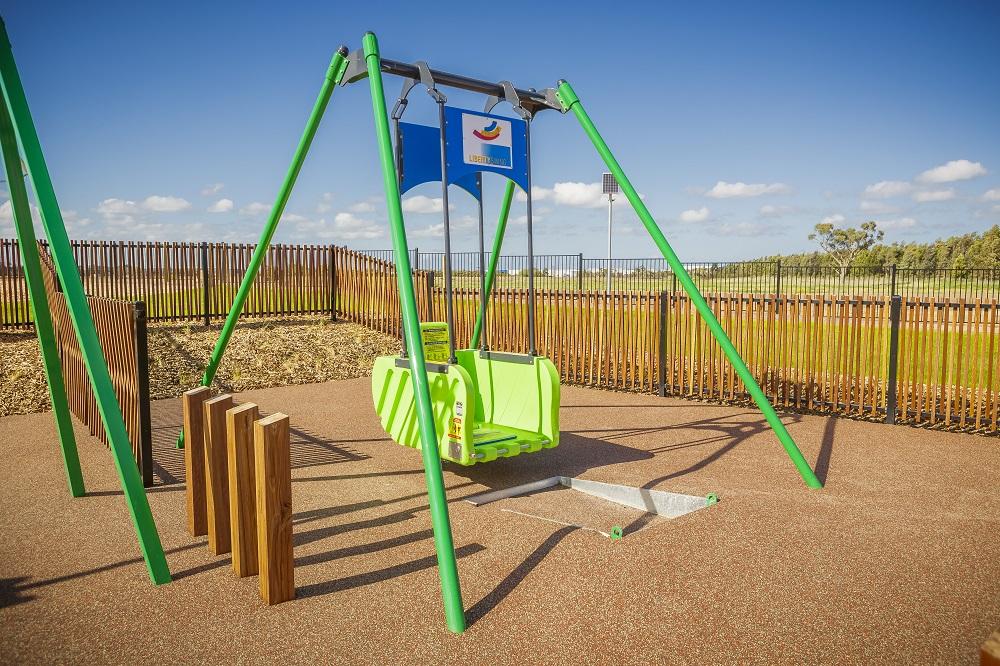 Multipurpose function centre
Important update: Deep Creek Golf Club, which had been managing several of the facilities at Deep Creek Reserve, has recently gone into administration. Read more at the latest news page.
This exciting new centre features:
a café and lounge area
multipurpose function spaces with dining and bar areas
educational training areas
accessible public toilet
golf pro shop.
The centre has been designed to achieve a reduction in energy and water usage. Check out the environmental sustainable design features of the centre.
The centre is home to Deep Creek Golf Club and Cardinia Environment Coalition, who will co-manage the building.
The centre's spaces are available to hire for meetings, functions and for education purposes.
A piece of public art, depicting tadpoles, by Dean Colls welcomes you to the new building and play space.

Wetlands - walks and viewing area
Come and explore the new wetland wonder trail at Deep Creek Reserve!
It features:
3 boardwalks along the 3 creeks, which connect at a central viewing platform
educational signs about biodiversity, harvesting water and about the Traditional Owners of the Western Port catchment
The new trail is a great place to learn about wetlands and the importance of keeping our waterways healthy.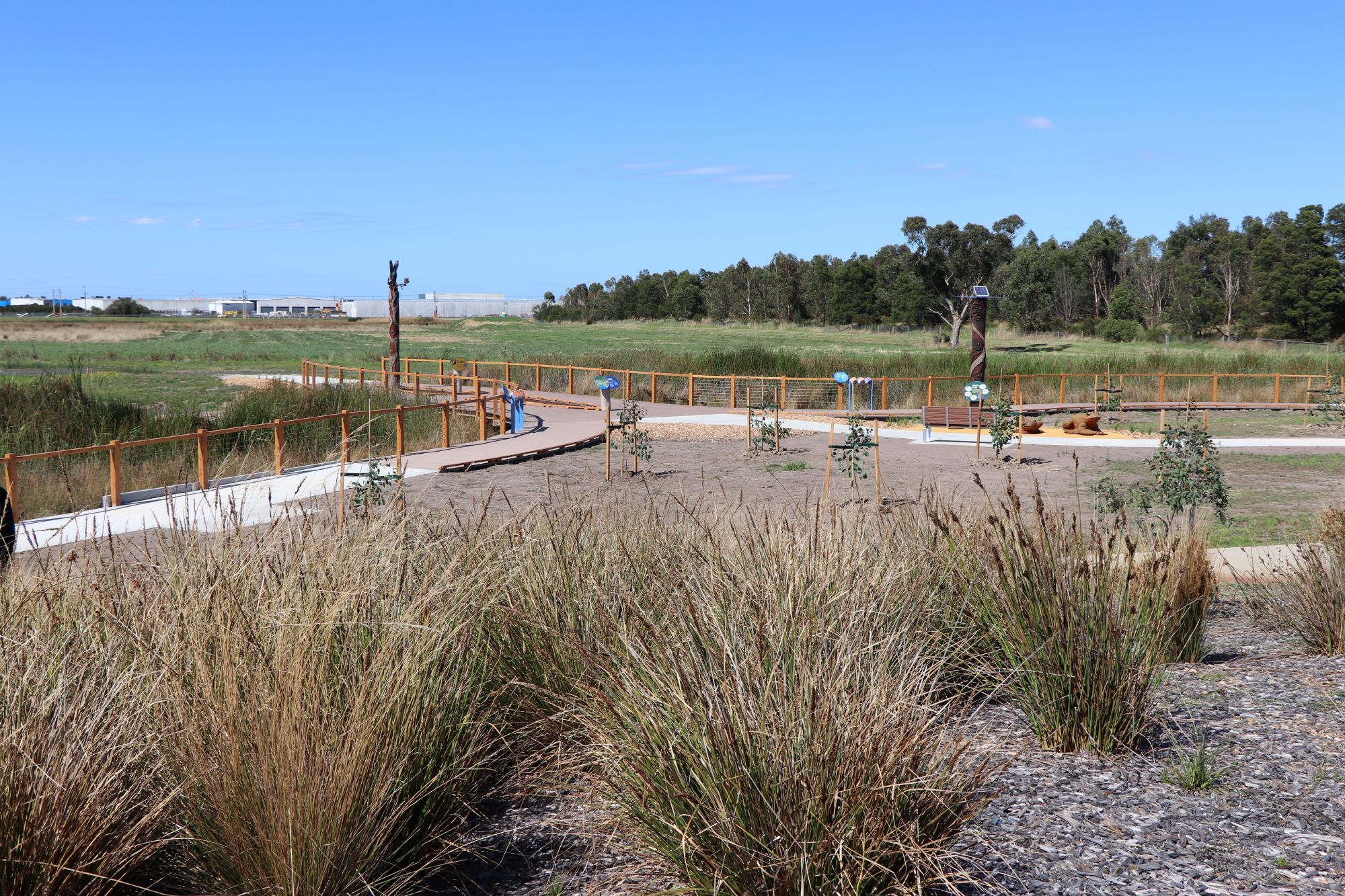 Deep Creek Reserve wins Premier's Sustainability Award
Cardinia Shire's Deep Creek Reserve has won the Premier's Sustainability Award 2021 in the category of Industry Leader - Sustainable Places.
For more information about this award, you can read the media release here.
Environmental education for schools
Schools will get the opportunity to learn about the environment and sustainability as part of Victorian Government curriculum-based STEM education sessions to be delivered at Deep Creek Reserve from 2020. Ecolinc has been engaged to run these sessions.
Students will actively learn by utilising the reserve's features including the eco centre, outdoor classrooms, demonstration wetlands, indigenous nursery and gardens.
To enquire about school bookings contact Ecolinc on 03 5367 0171 or ecolinc@edumail.vic.gov.au