Don't Shoot Me, I'm Only the Piano Player
David Scheel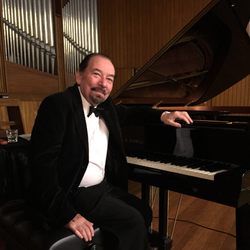 David Scheel is a true Australian success story. So much so that he is regarded internationally as one of the finest solo musical comedy performers in the world.
Sip and See
Date: Wednesday 23 March 2022
Time: 10am morning tea, 11am performance
Tickets: $22 per person, Companion Card holders can attend for free when accompanying a client
Venue: Theatre at Cardinia Cultural Centre, 40 Lakeside Boulevard, Pakenham

A runaway success in London's West End, at successive Edinburgh Festivals, at the Melbourne Comedy Festival, and right across the USA, Don't Shoot Me, I'm Only the Piano Player is a hilarious send-up of classical music, which has established Australian pianist, David Scheel, as the successor to the legendary Victor Borge.

David's incredible variety of accents and voices has seen him compared with the late Robin Williams, and Peter Ustinov. This performance combines this talent, his humour and beautiful music to deliver a performance that will have you laughing off your seat! Hear a familiar tune played in the styles of the old masters, plus an iPod; two famous pieces played simultaneously, one with the right hand, one with the left.

"As funny as any, wittier than most, and, uniquely, a concert pianist of international stature...He stands alone, in a class of his own."
- BBC Arts Review

"The only show in town that can satisfy lovers of classical music and comedy alike."
- San Francisco Chronicle

Don't Shoot Me, I'm Only the Piano Player is part of the Cardinia Cultural Centre's Sip and See morning entertainment program. We invite you to join us, sip on a cuppa and see a fantastic program of quality performances and theatre experiences. Your Sip and See ticket includes a delicious morning tea served from 10am, prior to the performance commencing.
Important information
Your attendance is subject to government guidelines, including the presentation of your vaccination digital or printed certificate. You will be required to check into the venue via QR code.