Taste of Tamworth
Carter and Carter, Jetty Road and Andrew Swift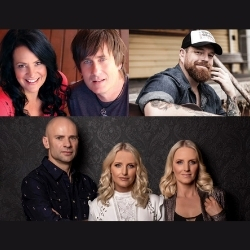 What do you get when you put three multi award winning country music acts together in one big concert? You get a Taste of Tamworth at its best.
Golden Guitar winners Carter and Carter, Jetty Road and Andrew Swift team up to give you an authentic taste of Tamworth, Australia's biggest country music festival.
Sip and See
Date: Wednesday 21 July, 2021
Time: 10am morning tea, 11am performance
Tickets: $22 per person, Companion Card holders can attend for free when accompanying a client
Venue: Theatre at Cardinia Cultural Centre, 40 Lakeside Boulevard, Pakenham
Can't get to Tamworth for their annual Country Music Festival? Come to the Cardinia Cultural Centre this July instead and enjoy a Taste of Tamworth, delivered to you by Carter and Carter, Jetty Road and Andrew Swift.
With songs from the heart Carter and Carter continue to make music that makes a difference, telling their story and the stories of those around them as only they can. The most successful independent country music act in Australia for the past 20 years, Carter and Carter have amassed more awards and more chart success than any independent artist in the history of Australian country music.
Winners of two Golden Guitars, talented trio Jetty Road have a sound described as a tapestry of pop and country, with a hint of folk. Imagine The Corrs, Fleetwood Mac and The Dixie Chicks with a unique Australian flavour. That sounds pretty darn good to us!
Andrew Swift made a big first impression on the country music scene when he performed as a Toyota Starmaker grand finalist in 2017. He went on to tour and perform alongside the likes of the Wolfe Brothers, Shane Nicholson, Catherine Britt, Amber Lawrence, Adam Eckersley, and Lachlan Bryan before winning two Golden Guitars at the 2018 CMAA Golden Guitar Awards. Andrew's songs often counter his inherent wistfulness, melancholy or self-deprecation, with robust, jubilant melodies; definitely a unique and engaging storyteller and one not to miss.
Taste of Tamworth is part of the Cardinia Cultural Centre's 2021 Sip and See morning entertainment program. We invite you to join us, sip on a cuppa and see a fantastic program of quality performances and theatre experiences. Your Sip and See ticket includes a delicious morning tea served from 10am, prior to the performance commencing.