Council launches food donation drive ahead of festive season
Published: 15 December 2020
There's no doubt 2020 has been a challenging year for the Cardinia community, making the festive season a particularly stressful time with the effects of COVID-19 still being felt by many.
Cardinia Shire Council's Financial Vulnerability Action team has been hard at work during the pandemic partnering with local relief services to provide support over the festive period and into 2021 as the community seeks to rebuild.
One of their many initiatives is a food donation drive for a new open food pantry located at Living Learning Pakenham. This partnership includes a number of key relief agencies including ADRA, Salvation Army, Follow Bless Collective, Siri Guru Nanak Darbar as well as Outlook Community Centre and the Men's Shed.
In true community style, the initiative draws on the talents of many. Council's Waste Team dropped off donation bins to Living Learning Pakenham to be painted and decorated by younger members the Cardinia shire community with the help of local artist Robert Matheson. The pantry itself was designed and built by the Men's Shed.
Cardinia Shire Council Mayor Councillor Brett Owen joined the team at Living Learning Pakenham to kick off the donation drive.
"We know there are people in the Cardinia community who are doing it tough as a result of COVID-19 but one of the positives brought about by the pandemic is the strength shown by the community and the willingness to band together to help others.
"So many of us have loved ones who might be out of work and under financial stress but I've been struck by the positivity, empathy and generosity of spirit that shines through even in difficult times.
"One small way the community can get involved and help their neighbour is to add an extra tin or packet to their grocery shop before placing it in one of the food donation bins on their way out of the supermarket. They've been so beautifully decorated by our young artists, you can't miss them!
"As we come to the end of what has been a rough year, I want the community to know that help and support is available if needed. There are a number of local service providers you can contact including the Salvation Army and Bless Collective. Details are available via the Council website at www.cardinia.vic.gov.au/reliefandrecovery or you can contact services directly," Cr Owen said.
The open food pantry will become a permanent fixture at Living Learning Pakenham.
Donation bins can be found at Woolworths Arena with other drop off sites to be announced.
Cardinia Shire Council's comprehensive directory of support and relief services is available at www.cardinia.vic.gov.au/reliefandrecovery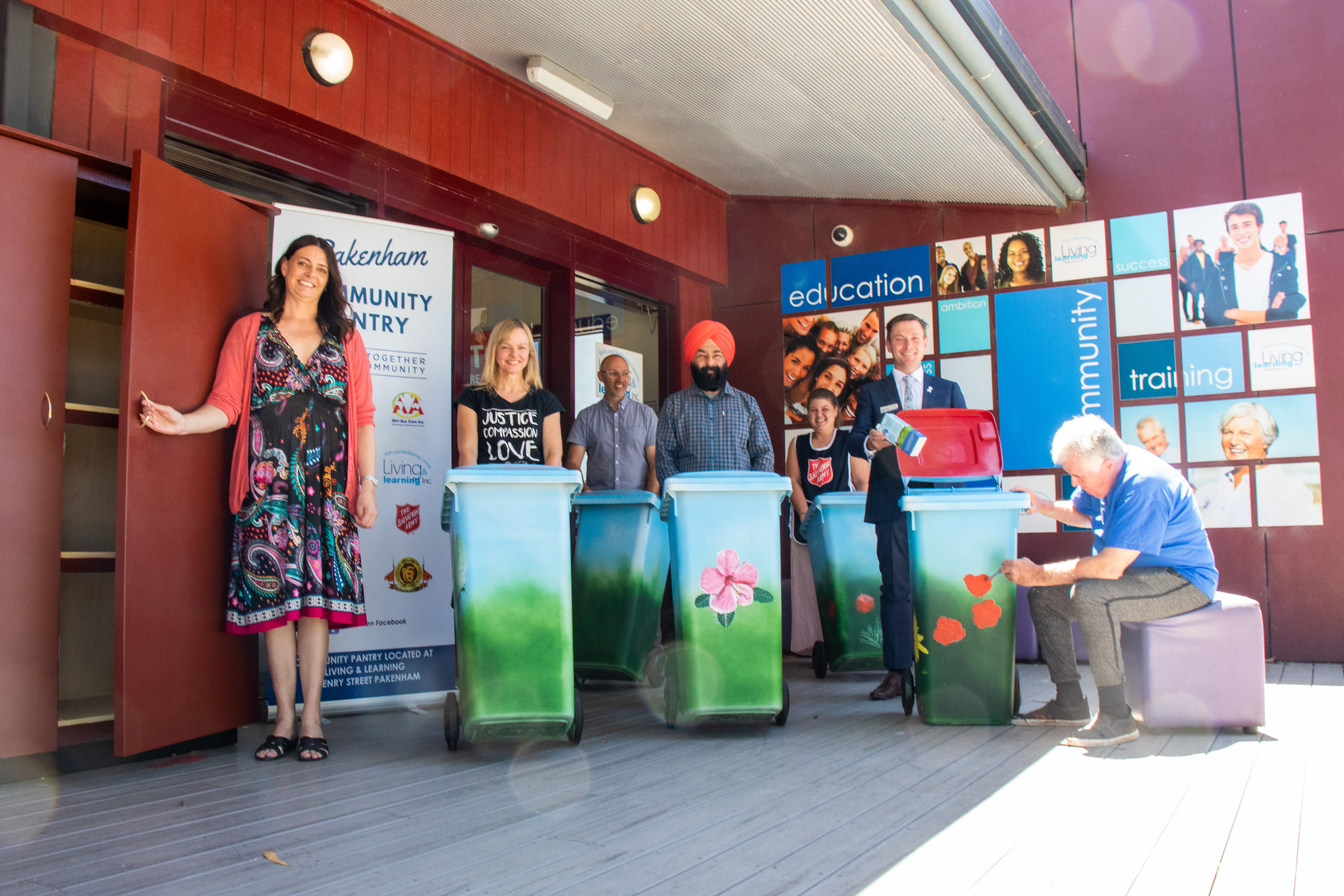 From left: Living and Learning Pakenham Program Manager Karen Todd, Adventist Development and Relief Agency Victoria and Tasmania Director Rebecca Auriant, Follow Bless Collective Pastor Luke Williams, Gurdwara Siri Guru Nanak Darbar Officer – Volunteer Harpreet Singh, Salvation Army Pakenham Doorways Team Leader Amanda Fleming, Cardinia Shire Council Mayor Councillor Brett Owen, and Local artist Robert Matheson.
Feeds from the web