Acting against gender-based violence
Published: 25 November 2020
Cardinia Shire Council is encouraging community members to continue to work together to call out gender inequality, sexism and violence against women this November and December.
Today (Wednesday 25 November) is International Day for the Elimination of Violence Against Women - it's also the first day of the United Nation's 16 Days of Activism Against Gender-Based Violence.
Coinciding with this campaign is Respect Victoria's 'Respect Women: Call it out' initiative, which also runs from 25 November to 10 December. The initiative, which Council supports, encourages Victorians to call out sexism, sexual harassment and disrespect towards women.
As part of the campaign, Council received funding from the Municipal Association of Victoria (MAV) to assist in promoting gender equality. Using the funds, Council, in partnership Together We Can – Family Violence Action Team with Respect Victoria, have developed 300 A3 stickers which will be temporarily placed on Council rubbish bins around the Shire. The stickers encourage community members to 'treat everyone as an equal' and provide the contact details of family violence support services.
Violence against women affects women's well-being and prevents them from fully participating in society. It impacts on families, the community and the nation.
On average one woman a week in Australia is killed by an intimate partner. Locally, 1,303 incidents per 100,000 population were reported to police between June 2019-20, which is an almost 11% increase when compared to the previous year.
Cardinia Shire Council Mayor Cr Brett Owen said Council was committed to preventing violence against women through raising awareness and working with the community and service providers to implement prevention strategies.
"Violence against women is a preventable problem, and its impact can be reduced by changing the factors that contribute to violence, whether they are attitudes, behaviours, institutions or social structures," Cr Owen said.
"Violence against women happens everywhere in Australia, including in Cardinia Shire. We need the whole community to be involved to prevent family violence and support those impacted. It is everyone's business to do something about this issue," Cr Owen said.
"We acknowledge that domestic violence can affect all family members including women, men, non-binary and trans people, as well as children. We encourage people to reach out if they need help," Cr Owen said.
If you are currently experiencing family violence, and it is an emergency, dial 000 and ask to speak to the police.
For support services and family violence information, visit the Family Violence section in our Coronavirus Online Help Hub www.cardinia.vic.gov.au/coronavirus
Download the 'Respect is' sticker in PDF form.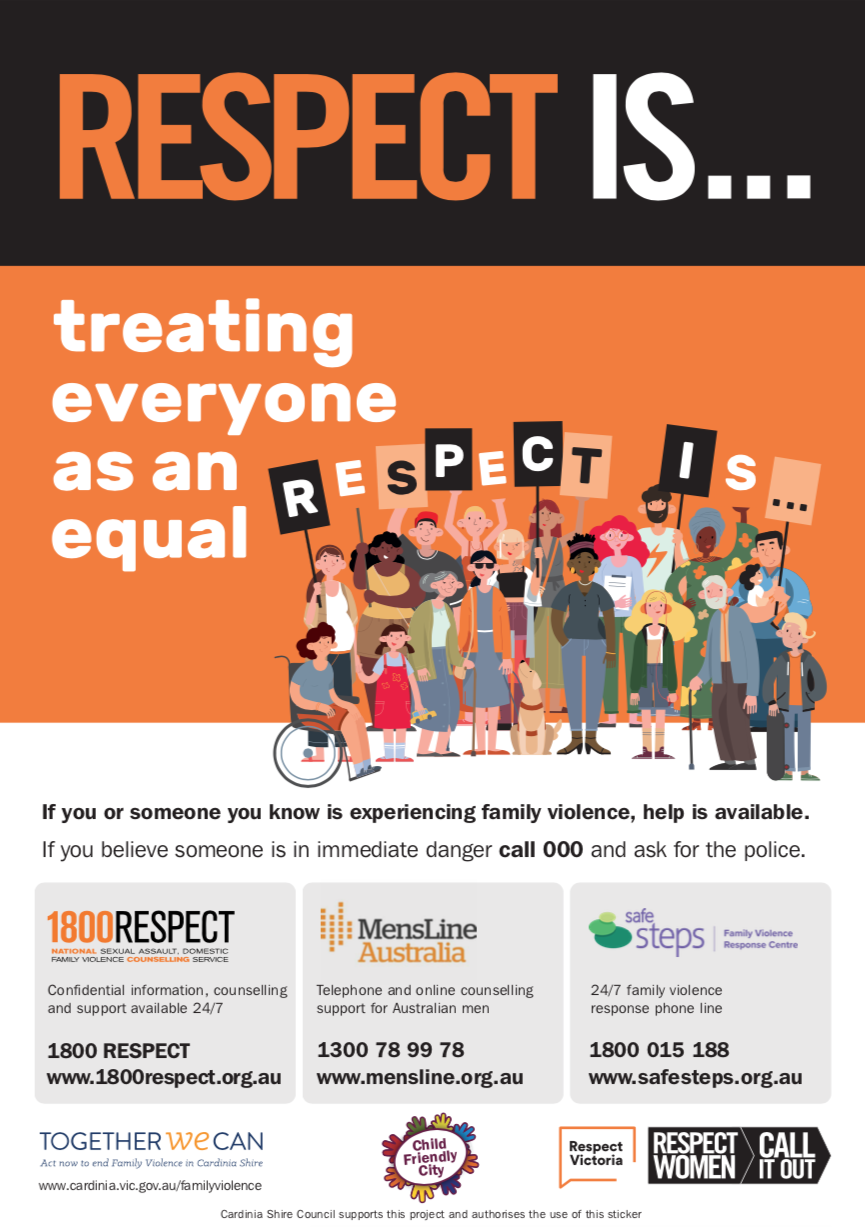 Feeds from the web