Breaking ground on Officer District Park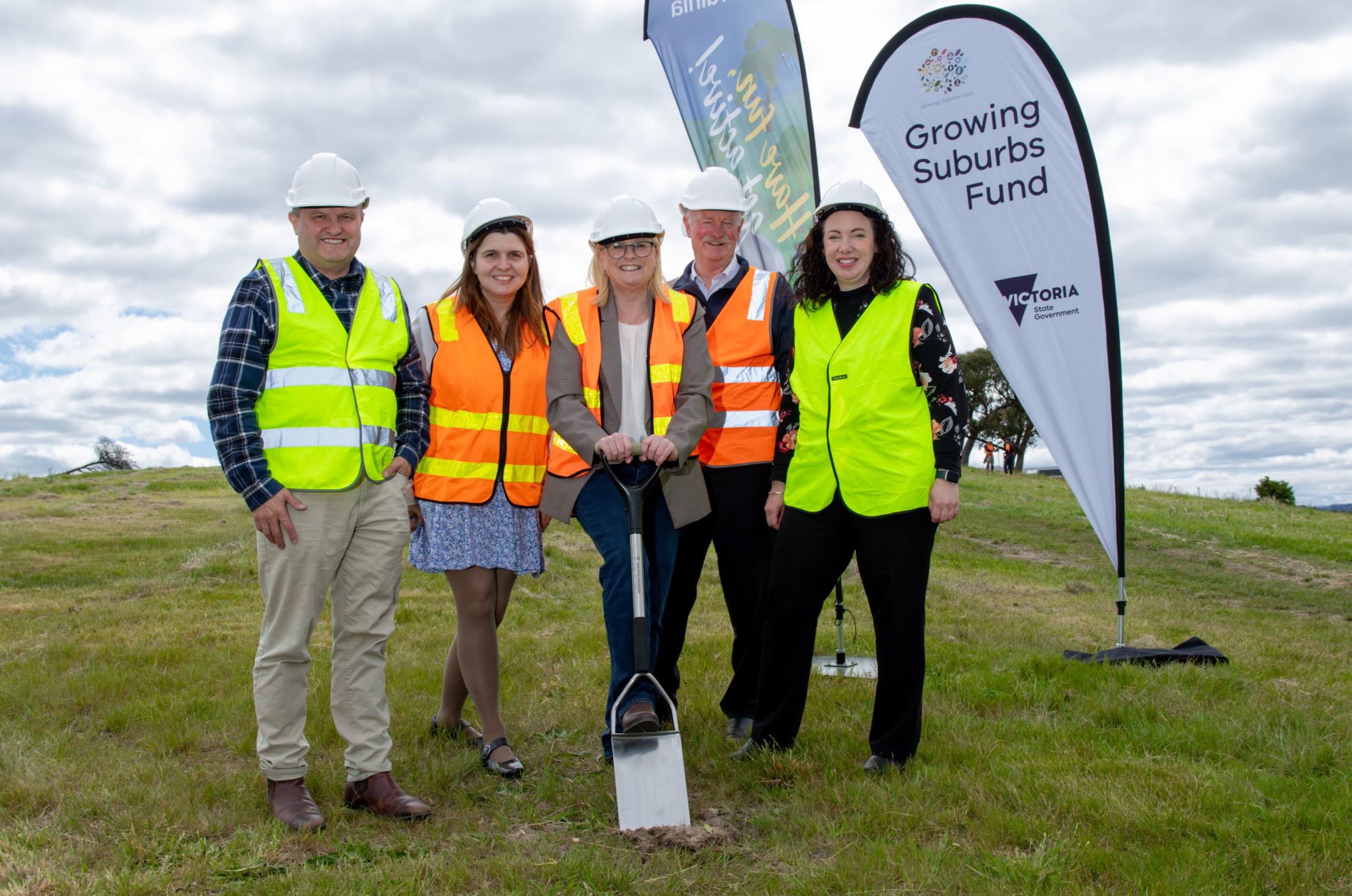 Published: 11 October 2023
Cardinia Shire Council is breaking ground on the exciting, new 10-hectare adventure and nature park, Officer District Park.
Located on Lansell Avenue in Officer, Officer District Park will provide new opportunities for the local community to recreate, socialise, play, and connect.
Cardinia Shire Mayor Councillor Tammy Radford officially turned the sod at the site with Member for Pakenham Emma Vulin MP, Member for La Trobe Jason Wood MP and alongside Toomuc Ward Councillor Stephanie Davies, Councillor Graeme Moore, and Councillor Brett Owen.
Officer District Park is supported and funded by Council, the Victorian Government's Growing Suburbs Fund and the Federal Government's Local Roads and Community Infrastructure program.
The park will be delivered in stages, with exciting features planned to be delivered as part of the current stage 1 works, including:
an incredible multi-level playground with a variety of play zones and experiences including two 20m-long embankment slides.
dog off leash area
Cardinia Shire's first purpose-built Parkour Zone
fitness equipment including running stairs, exercise stations and a 1km loop track.
hillside lookout platform
wetland area with extensive landscaping
public toilets
picnic facilities.
Subject to future funding, the next stages of construction may include a regional-level skate park, mountain boarding tracks and a cafe.
Cardinia Shire Mayor Councillor Tammy Radford is excited to see works start on this landmark project.
"Officer District Park will be a ground-breaking project for Cardinia Shire, delivering a number of regional firsts. This park will also provide a range of recreational opportunities that are currently underprovided in this area."
The Officer District Park location was identified as part of the Cardinia Road Precinct Structure Plan. The park's masterplan was adopted in late 2018, and detailed designs were then developed through extensive community consultation.
Stage 1 of Officer District Park is expected to be completed by late 2024, conditions permitting.
For more information on Officer District Park, please visit www.cardinia.vic.gov.au/officer-district-park
Feeds from the web