Cardinia Shire's new Mayor and Deputy Mayor elected for 2019–20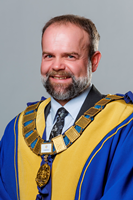 Published: 12 November 2019
Ranges Ward Councillor Cr Jeff Springfield was elected Mayor of Cardinia Shire at Council's Annual Statutory Meeting on Monday 11 November.
Cr Springfield said he was honoured to be elected as Mayor by his fellow Councillors and was looking forward to leading the Council in its final year of this Council term.
"I am privileged to be leading this Council as Mayor as we round out our delivery of the many projects and services the Council has been planning and working on these past three years.
"This is an important year for us as we work closely to ensure the remaining commitments we've made in the Council Plan are carried out. I will strive to lead the Council in making every day left in our term of office count," Cr Springfield said.
This is Cr Springfield's first time as Mayor, having held office as Councillor since 2016.
"As someone born and raised in Emerald, I was truly humbled to be elected as Council representative for the Ranges Ward back in 2016. Now three years on, I am once again very honoured to be able to represent the interests of all our residents as Cardinia Shire Mayor for 2019–20."
Cardinia Shire's 2018–19 Mayor Cr Graeme Moore was elected Deputy Mayor for 2019–20.
Mayor Cr Springfield thanked Cr Graeme Moore for his fulfilment of the role as Mayor over the past 12 months.
"I would like to acknowledge the fantastic job that our former Mayor, Cr Graeme Moore has done this past year in this position.
"Graeme has been a fabulous Mayor; his boundless energy and willingness to get out and about has been extraordinary, particularly in the way he responded to the Bunyip Bushfires as ambassador for Council and community.
"I am very much looking forward to having his support as Deputy Mayor over the next year.
"I would also like to thank my fellow Councillors for electing me as Mayor and for their ongoing support in helping me to grow into a great Councillor that can best serve this community that I love so much."
For more information about Mayor and Councillors, visit our website at www.cardinia.vic.gov.au/councillors
Feeds from the web