A message from the Mayor
A message from Mayor Cr Jeff Springfield on the Coronavirus situation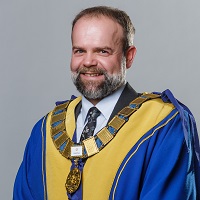 As a community and a nation, we are faced with challenging and uncertain times unlike anything we have experienced before.
I want to reassure you that Cardinia Shire Council is working incredibly hard to continue delivering essential services to you where it is safe and practical for us to do so.
We have had to modify and adjust some services, transition to over-the-phone delivery, or close some facilities where necessary – with the health and wellbeing of our community and staff at the forefront of everything we do.
We will also roll out a range of community and business support measures at a local level to help our community get through this difficult and unprecedented time.
It is now more important than ever that we look out for one another and follow the advice being provided by the Australian and Victorian governments. We're all in this together and we all have a very important role to play in helping to slow the spread of Coronavirus (COVID-19).
Essential services continue
Our teams are working hard to ensure we can continue to deliver essential services to you where it's safe and we are permitted to do so.
Our dedicated Customer Service team is available to assist you even though our customer service centre at Officer is temporarily closed. Contact us by phone or email, or you can access a range of online services via our website at any time.
Bin collections continue as normal, but bins may be collected a little earlier in the day than usual to enable our contractor to stagger employee start times. Our hard and green waste collection is still going ahead in April or May, depending on where you live, as are our green waste drop off days.
Immunisation sessions are still being held, but to reduce risk to our community and staff, sessions that were previously scheduled to take place at Pakenham Hall will now be held at Cardinia Cultural Centre. Please see the schedule on our website for updated session details.
Families in the shire can access Maternal and Child Health (MCH) consultations over the phone while MCH centres are temporarily closed. The booked over-the-phone consultation service is available 8.30am-5pm on 5943 4250.
We have also transitioned to over-the-phone youth services during the temporary closure of My Place youth centre. Our Youth Services team is available 9am-5pm on 1800 496 884. Our Teenage School Holiday Program has also been cancelled.
Road maintenance works across our shire's extensive road network are continuing.
Those seeking planning support and advice can contact our Statutory Planning team on 1300 787 624 during business hours.
Changes to services and temporary closures
In response to government guidelines and recommendations, we've closed a number of facilities and suspended or modified some of our services.
Programs, shows and the customer service desk at Cardinia Cultural Centre are temporarily closed, and the Vista Cafe is open for takeaway service only. Council's immunisation sessions and the Red Cross donor centre are continuing to operate from the centre as they are essential. Customers who have bought tickets for cancelled performances will receive a full refund and will be contacted by our team to process their refunds. Stay tuned because we're also working on innovative ways to keep you connected with arts and culture in the shire during the closure.
Aligned Leisure facilities including Cardinia Life and Pakenham Regional Tennis Centre are temporarily closed but you can remain active and enjoy some fresh air at parks and recreation reserves across the shire as long as you observe social distancing guidelines. Please be aware that you are not permitted to use playgrounds, skate parks, barbecues and picnic areas/tables or exercise equipment. Please note that Emerald Lake Park and Mount Cannibal will be closed from Friday 3 April.
Casey Cardinia Libraries are temporarily closed but you can still access a range of great resources online. Join the Digital Library to access books, magazines, newspapers, story times, music, movies, kids' educational resources and more, by heading to Casey Cardinia Libraries.
Most community halls, hubs, centres and neighbourhood houses are closed and playgroup and supported playgroup sessions have been suspended until further notice.
To see all changes to facilities and services, visit Coronavirus
Council support for community and business
We are introducing a range of measures to support community and business during this challenging time.
As part of the Phase 1 of our Community and Business Support Package we will be offering a range of support initiatives to help community and business cope with the unprecedented effects of COVID-19.
The areas that we will be focussing in Phase 1 include fast tracking of approvals and compliance matters, temporary cessation of some fees and charges, a shop local campaign, business concierge services, support for local contractors and rent relief options for those in Council properties.
These measures are just the first step in supporting community and business. We will also consider further support as part of our draft 2020-21 budget, which is expected to be placed on public exhibition in mid-April. Further measures likely to be considered include rate deferrals, interest-free periods for outstanding rates and late payments, and faster payment times for suppliers.
We look forward to bringing you more information about these initiatives.
Local social support
We are continuing to work with the Department of Health and Human Services and our local partners on relief planning for our community. Visit Coronavirus to find local information and links to the Australian and Victorian government websites.
Furthermore, as a member of the Local Government Mayoral Advisory Panel, I've been working closely with mayors across Victoria and the Minister for Local Government to actively seek ongoing government support for our local community.
Our planning and actions
We've activated plans towards ensuring the health and safety of our community and staff while continuing to provide essential community services. These plans are being continuously reviewed and updated as the COVID-19 situation changes.
Important health information
We all have an important role to play in helping to slow the spread of Coronavirus (COVID-19).
Both the Australian and Victorian governments strongly advise that you only leave your home for essential activities.
Practice social distancing by staying at least 1.5 metres away from others and refrain from shaking hands or exchanging other physical greetings.
If you need to leave your home for essential activities, practice social distancing and thoroughly wash your hands before you leave and when you get home.
Read more about slowing the spread of COVID-19 on the DHHS website
It goes without saying that this is a stressful time for us all, and one that requires a lot of change and adjustment. Beyond Blue and Headspace have some good information on looking after your mental health during this time.
We are working closely with government agencies and following their direction. We will continue to monitor how this situation is impacting our community and how we can best support you as we move forward.
I'm proud of what a resilient community we are – let's continue to support each other, look out for one another and be considerate and caring during this challenging time.
Contact Council
For updates and more information