Gone with the Wind
By the Lux Radio Theatre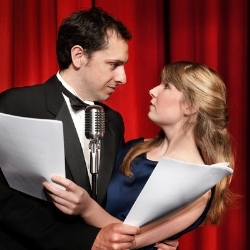 The perennial favourite Gone with the Wind will be performed on stage as a classic radio play by the Lux Radio Theatre.
Set against the American Civil War, Gone with the Wind is the stirring story of Scarlett O'Hara and her romance with the debonair Rhett Butler. The story has intrigued several generations since the book was first published, and the 1939 movie is still the highest grossing film of all time.
Sip and See
Date: Postponed.
Time: 10am morning tea, 11am performance
Tickets: $22 per person, Companion Card holders can attend for free when accompanying a client
Venue: Theatre at Cardinia Cultural Centre, 40 Lakeside Boulevard, Pakenham
The Lux Radio Theatre company has become an audience favourite. It started with a series of productions at Arts Centre Melbourne and has toured widely in Victoria and Queensland, to the Brisbane Festival, Noosa Long Weekend and the Castlemaine Festival.
A group of distinguished actors double roles, create live sound effects and perform classic soap commercials. The audience is also very much a part of the action, playing the guests at a ball and applauding on cue.
Gone with the Wind is part of the Cardinia Cultural Centre's 2021 Sip and See morning entertainment program. We invite you to join us, sip on a cuppa and see a fantastic program of quality performances and theatre experiences. Your Sip and See ticket includes a delicious morning tea served from 10am, prior to the performance commencing.