To Lulu With Love
Starring Baylie Carson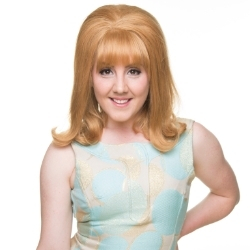 Come spend an hour with that feisty firecracker of 60s pop... the extraordinary Lulu!
lulu (noun)
/ˈluːluː/
an outstanding example of a particular type of person or thing.
(Oxford Dictionary)
This one's a real Lulu! Don't miss it!
Sip and See
Date: Wednesday 16 June, 2021
Time: 10am morning tea, 11am performance
Tickets: $22 per person, Companion Card holders can attend for free when accompanying a client
Venue: Theatre at Cardinia Cultural Centre, 40 Lakeside Boulevard, Pakenham
Lulu is winding back the clock to Britain's 'summer of love' with fascinating and hilarious tales of her rise to fame; singing on Ed Sullivan, co-starring with Sidney Poitier, singing Boom Bang a Bang on Eurovision, touring with The Beach Boys, partying with The Beatles and marrying a Bee Gee! 
Oh, and let's not forget that world-wide number one hit with the title song from her very own movie To Sir With Love.
You'll be bopping in your seat to tunes including Put a Little Love in Your Heart, Boom Bang a Bang, Shout!, The Boat That I Row, Good Day Sunshine, The Man With The Golden Gun, To Love Somebody, I'm a Tiger, Me the Peaceful Heart, The Prayer and To Sir With Love. 
Devised by the team that brought you You're My World: The Cilla Black Story, Danielle O'Malley and Mark Jones.
To Lulu With Love is part of the Cardinia Cultural Centre's 2021 Sip and See morning entertainment program. We invite you to join us, sip on a cuppa and see a fantastic program of quality performances and theatre experiences. Your Sip and See ticket includes a delicious morning tea served from 10am, prior to the performance commencing.