Mission Songs Project
by Jessie Lloyd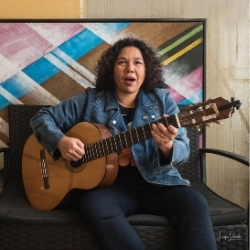 After having to postpone the planned tour of Australia and Canada in 2020, Mission Songs Project was reimagined as a digital series hosted on ABC iView and now after considerable planning it makes its triumphant return to the stage.
Sip and See
Date: Wednesday 26 May, 2021
Time: 10am morning tea, 11am performance
Tickets: $22 per person, Companion Card holders can attend for free when accompanying a client
Venue: Theatre at Cardinia Cultural Centre, 40 Lakeside Boulevard, Pakenham
Presenting an authentic narrative of Aboriginal and Torres Strait communities across Australia through song and story, Jessie Lloyd's acclaimed production Mission Songs Project is touring nationally in 2021.
Performed by an extraordinary trio of Indigenous musicians led by Jessie Lloyd, Mission Songs Project is infused with Islander rhythms, folk, and a little country 'n western.
With laid-back humour and poignant storytelling, moving harmonies and historical insights, the trio bring to life the voices of Elders as they would around a campfire or kitchen table during Australia's missions' era in the first half of the 20th Century.
Mission Songs Project launches the Cardinia Cultural Centre's 2021 Sip and See morning entertainment program. We invite you to join us, sip on a cuppa and see a fantastic program of quality performances and theatre experiences. Your Sip and See ticket includes a delicious morning tea served from 10am, prior to the performance commencing.
Mission Songs Project is produced by Performing Lines in association with Arts on Tour, and assisted by the Australian Government through the Australia Council for the Arts, its arts funding and advisory body, and the Indigenous Languages and Arts program.