School Holiday Movies
School Holiday Movies
There's no better way to spend a morning during the school holidays than catching one of our kids' movies. Screening smash hits and old classics, there's something for everyone!
Got the munchies? Then take advantage of our School Holiday Movie Snack Deal! It includes a movie ticket, fresh popcorn and a drink for just $10 per person.
The Croods: A New Age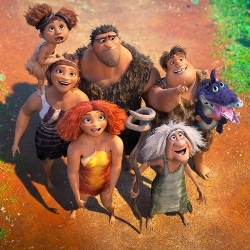 Date: Wednesday 7 July, 2021
Time: 10am
Tickets: $5 per person, $10 snack deal (includes one ticket, popcorn and a drink), children aged under two years (not occupying a seat) do not require a ticket
Venue: Theatre at Cardinia Cultural Centre, 40 Lakeside Boulevard, Pakenham
The Croods have survived their fair share of dangers and disasters, from fangled prehistoric beasts to surviving the end of the world, but now they will face their biggest challenge of all: another family.
The Croods need a new place to live. So, the first prehistoric family sets off into the world in search of a safer place to call home. When they discover an idyllic walled-in paradise that meets all their needs, they think their problems are solved... except for one thing. Another family already lives there: the Bettermans.
Rated: PG
Runtime: 1 hour 35 mins
Book with confidence
Movie tickets are fully refundable if this session is cancelled due to Victorian Government COVID-19 restrictions. If an event is cancelled, all ticket holders will be contacted directly by our customer service team to process refunds.
Theatre rules and etiquette with children
Babies and toddlers
Our 'babes in arms' policy states:
Babies who will be nursed in a parent or guardian's arms throughout a performance do not require tickets or seats.

Once an infant becomes a toddler (aged two years and older) they require a ticket and an individual seat.
As a courtesy to fellow audience members, observe the above rules and ticketing requirements as an overcrowded theatre is not only uncomfortable, it is illegal.
Crying babies
If your baby or toddler starts crying, please move to the foyer so you can calm it. For this reason, aisle seating is recommended to help you exit quickly and easily.
Prams, pushers and strollers
Prams, pushers and strollers must be left in the foyer. If you need any assistance in navigating the theatre our ushers can help. If you think you will need help, early and late access can be provided.
Please don't be late
Due to the nature of live entertainment, trying to find your way to your seat once a show has started can seriously disrupt both the audience and the performers on stage.
Many performances have a lockout which restricts anybody from entering the auditorium until a suitable break in the performance. For some productions the lockout can be until interval; for others, the entire show.
Please arrive early.
Food and drink
Drinks in plastic containers and tea and coffee in disposable cups with lids are permitted. Glassware is not allowed in the theatre.
Confectionery purchased within the centre may be consumed in the theatre. Hot and savoury food is not allowed in the theatre.
Please dispose of chewing gum in a responsible manner before entering the centre.
Moving around
It is strongly encouraged that audience members remain seated for the entire performance. If you do need to leave, please do so quietly and wait for an appropriate moment.
As a courtesy to others. when bringing children to the theatre make sure the children have had the opportunity to go to the toilet before taking your seats.
Wheelchairs and ambulatory aids
Only wheelchairs may enter the theatre. We have an accessible seating area suitable for wheelchairs and pre booking of these spaces is highly advisable.
Ambulatory aids must be left in the foyer. If you need any assistance in navigating the theatre our ushers can help. If you think you will need help, early and late access can be provided.