Art That Makes You Think
A collection of work by Sue Jarvis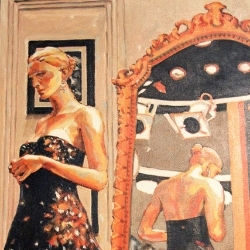 Concepts that are intended to provoke thought.
Art That Makes You Think
Date: 20 April until 21 May 2021
Time: Open Tuesday to Sunday, 10am until 3pm
Location: Gallery, Cardinia Cultural Centre, 40 Lakeside Boulevard, Pakenham
Art That Makes You Think; a collection of work by Sue Jarvis is an exhibition featuring a variety of concepts that are intended to provoke thought. Through themes of ideal beauty, sacrifice of war, individuality, recognition of the temporary, notions of religion and culture, global warming and modern life, Sue challenges you to think outside the box and consider the bigger picture.
About the Artist
A former secondary art teacher and secondary art craft consultant, Sue Jarvis became a full time artist in 1981. With more than 50 years experience in the Arts industry, Sue's collection of artworks has expanded significantly.
Sue has an appreciation of and interest in the contemporary as well as diversity, and as a result, her art takes on an abundance of themes. Sue's art practice focuses on colour, shape and simplicity. She is also fascinated with black and white photos and films and this inspiration comes through in some of her pieces. Utilising her keen eye for photography, Sue often works with a camera and computer as design tools.
Sue lives on a beautiful 10 acre property in Gembrook, where she has her own gallery and regularly hosts weddings and events. Purchasing this land when she was in her twenties, Sue's garden is a real-life extension of her artistic flair. Currently, Sue is a Creative Recovery Facilitator for the Creative Recovery team associated with those affected by the 2019 Bunyip State Park fires.
Meet the Artist Day
We invite you to come along and meet the artist, Sue Jarvis on
Sunday 16 May 2021
. Light refreshments will be served between 12pm and 2pm. To register your interest in the "Meet the Artist" Day, visit the
Facebook event
.