Cardinia Cultural Centre Gallery
Welcome
Our state-of-the-art gallery space houses curated traditional, digital, and new-media exhibitions and installations by leading practice and emerging artists.
Our program of events, performances, workshops and artist residencies offers our local community and visitors to Cardinia Shire 'art outside the frame'.
Browse our current exhibitions below.
Secret of the Raft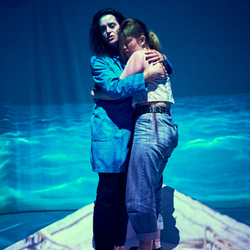 Date: Friday 25 March until Sunday 10 April 2022
Preview Showing: Friday 8 April 2022, 8pm
Tickets: $10 per person for the preview showing
Venue: Gallery at Cardinia Cultural Centre, 40 Lakeside Boulevard, Pakenham
ReAction Theatre brings the iconic painting The Raft of the Medusa alive by combining 3D projection mapping, installation, interactive participation, and live performance in a two-week residency.