Free Kids' Workshops
With Kristina and Jenni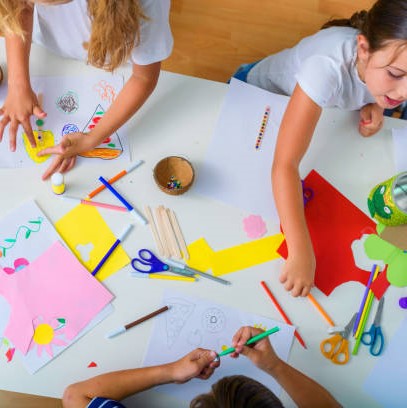 Come along to our free Kids' Art Workshops!
About the workshops
Our Kids' Art Workshops will be running on Tuesdays and Fridays throughout September 2022 from 10 am to 12 pm at CCC. They are suited to children aged up to 5 years old accompanied by a caregiver. All materials will be provided unless otherwise stated. Come and have some fun playing with arts and crafts in a facilitated setting and grab your morning coffee next door. Ticket links and event details below.
Please note: with Friday 23 September being the AFL Grand Final public holiday, the workshops within that week will run on Tuesday 20 and Thursday 22 September.
Bookings
Pipe Cleaner Flowers

Welcome to Spring!

Crafting with pipe cleaners is great for pre-primary aged children as it can help develop fine motor skills by twisting and bending them. It's also a great sensory experience as they can get used to the textures of different craft materials.

Join us in the Waterfront Room at the Cardinia Cultural Centre this Friday 2 September from 10 am - 12 pm to make some pipe cleaner flowers.

Book now

Pebble Ladybird

For this Tuesday's craft activity, let's make simple and sweet pebble ladybirds!
This is a great little addition to a plant pot, a garden or for imaginative bug play.
For this session we encourage families to please bring in small-medium stones and rocks, so we can paint them to look like cute little ladybugs!

This session will be held in the Waterfront Room at Cardinia Cultural Centre, Tuesday 6 September from 10am-12pm.
Springtime Flowers

It's official – Winter is over, and Springtime is here!

Join Jenni as we make a fun display of flowers to greet visitors to the Cardinia Cultural Centre and Chimes Eatery.
How many flowers will you make? Won't your friends and family be happy to see your art decorating the CCC!

This workshop will run on Friday 9 September from 10 am - 12 pm at Cardinia Cultural Centre in the Waterfront Room.

Book now

Stamped Hyacinth Paintings

In celebration of Spring, we're creating our very own Hyacinth paintings with household items that we can use to stamp on the paper! Come and play and create your own masterpieces that you can put on your wall, fridge or bedroom.

Join us in the Meeting room for this activity at Cardinia Cultural Centre Tuesday 13 September from 10 am - 12 pm.

Book now

Caterpillars and Butterflies

Bring your art smock or wear old clothes as we will be playing with paper plates, paints and glue.
When your art is ready, you'll be able to change your cute caterpillar into a beautiful butterfly.

This workshop will run on Friday 16 September from 10 am - 12 pm at Cardinia Cultural Centre in the Waterfront Room.

Book now

Watercolours

Make your own watercolour masterpiece and bring it home to display on your fridge or anywhere in your home.

This workshop will run on Tuesday 20 September from 10 am - 12 pm at Cardinia Cultural Centre in the Waterfront Room.

* This workshop is suitable for kids of all ages

Book now

Beetles, Bugs and Bees

* Cancelled due to public holiday

Insects are an interesting and important part of the environment, so today we shall make our own beetles, bugs and bees – and maybe a ladybird, too.
What will you construct, using coloured paper and glue?

This workshop will run on Thursday 22nd September from 10 am - 12 pm at Cardinia Cultural Centre in the Waterfront Room.

* This workshop is suitable for kids of all ages

Cherry Blossom Tree

Spring in Melbourne means the blooming of the Cherry Blossom Tree!
Let's create our own Cherry Blossom Tree artworks using Sharpies, paint and bubble wrap!

This session will be held in the Waterfront Room at Cardinia Cultural Centre Tuesday 27 September from 10 am - 12 pm.

​​​​​​​* This workshop is suitable for kids of all ages

Book now

Trains

Puffing Billy is a popular attraction. It's fun to ride and fun to wave to the passengers as it passes by.
Let's have fun making your own trains -which can fold into a book. Who will be waving from the windows of your train?

This workshop will run on Friday 30th September from 10 am - 12 pm at Cardinia Cultural Centre in the Waterfront Room.

​​​​​​​* This workshop is suitable for kids of all ages ​​​​​​​

Book now