Hills Hub
IMPORTANT: Changes to this facility due to COVID-19 restrictions
The Hills Hub remains closed to the public for now but room hire enquiries for 2021 are welcome.
Community groups at the Hills Hub will start delivering modified services again from Monday 7 December 2020.
Key points
The hub is a beautiful, accessible and integrated facility that will support various volunteer, community and local business initiatives, bring several community groups and programs under one roof, and provide a great location for community, arts and social events.
Currently, several organisations are operating from the facility including Emerald U3A, Emerald Men's Shed and the Hills She Shed. Puffing Billy Toy Library will be moving in soon.
Rooms and spaces in the hub are available for community groups, businesses and individuals to hire on a regular or casual basis. For information visit Hills Hub room hire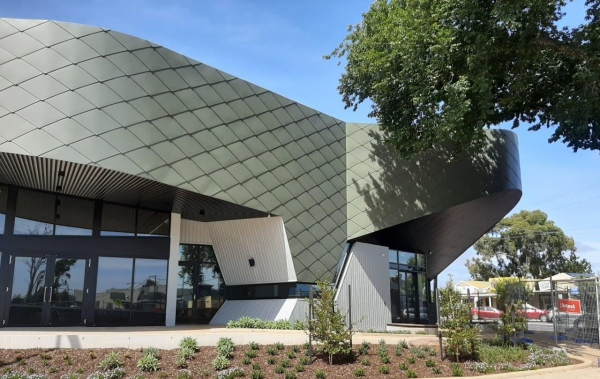 Funding
The $8.1 million Hills Hub project was funded by:
Location
Corner of Belgrave-Gembrook and Beaconsfield-Emerald roads, Emerald
(Next to Worrell Reserve and Emerald Library, directly opposite the shops).
Opening hours and contact details
Community groups at the Hills Hub
From Monday 7 December 2020, community groups at the Hills Hub will start delivering modified services again.
Please contact the community groups directly for more information.
The Hills Hub remains closed to the public for now but room hire enquiries for 2021 are welcome.
Contact person: Hills Hub Place Maker
Ph: 1300 787 624
Email: mail@cardinia.vic.gov.au
Getting there
Car
Parking is available in the Worrell Reserve car park. Enter the car park via the roundabout at the intersection of Belgrave-Gembrook Road and Emerald-Monbulk Road.
Bus
The bus stop is located right outside the facility.
Bus routes: 695 Belgrave – Gembrook or 695F Gembrook – Fountaingate
Various community groups and organisations under one roof
The Hills Hub will bring together a number of local community groups and not-for-profit organisations including:
Please check websites or contact the groups directly for information about services during COVID-19.
How the Hills Hub will benefit the community
The Hills Hub responds to the emerging needs of local residents in Cockatoo, Emerald, Gembrook and surrounding Hills townships.

Bringing several community groups under one roof will better connect people in the community, increase social interaction, and provide improved access to a range of community activities including skills-based learning.
Support for local business and the arts
Business and training opportunities
The Hills Hub gives local businesses and training organisations access to meeting, consulting and training rooms to support home/small businesses and improve local training opportunities and employment pathways.
Increased use of the precinct will benefit local cafes, shops and other businesses.
The arts
The arts space, together with an annual program of event, will support existing and emerging artists and increase local participation in and appreciation for local arts projects.
Features of the facility
Ground floor
3 multi-purpose rooms (can be converted into 1 large hall)
Large kitchen with servery
2 community lounge areas with tea stations
Entry foyer and reception area
Accessible amenities (available to the public during office hours).
Workshop and loading bay
First floor
2 training rooms (can be converted into 1 large training room)
1 consulting suite
1 meeting room
1 informal meeting space
1 arts/performance space
The Hills Hub is connected to Emerald Library via a pathway, landscaping and a reading garden, providing a lovely outdoor space for people to gather.
Room hire
Rooms at the Hill Hub in Emerald are available for community groups, not-for-profit organisations, businesses and individuals to hire on a regular or casual basis.
Bookings can be made now – rooms will be available from Wednesday 1 April 2020.
More info: Hills Hub room hire
Management of the Hills Hub
Council employs a full-time Place Maker to manage the Hills Hub.
Our Place Maker will:
oversee the smooth day-to-day operations of the hub
nurture strong, collaborative relationships between hub stakeholders, and foster community connections and leadership
build a year-round program of events and activities.
Working with the community on this project
· The Hills Hub, which has been a number of years in the making, was developed in close consultation with the local community.
· To ensure the hub reflected the community's needs, Council and the community established the Hills Hub Advisory Committee.
· The committee represented a cross section of stakeholders and interested parties to ensure the project built on community strengths and promoted community leadership.
The committee met regularly throughout the project with members representing these organisations:
· the Eastern Dandenong Ranges Project Group
· Emerald Mechanics Institute
· Emerald Men's Shed
· Emerald U3A
· Emerald Village Association
· Lions and Rotary clubs
· Puffing Billy Toy Library
· 3MDR
· Ranges Ward Councillors
· the Worrell Reserve Committee of Management
· many individual community members.

The advisory group met monthly from February 2015 and started the first phase of the design process. The preferred design concept was endorsed by the community after extensive engagement and consultation.
Council acknowledges the community, stakeholders and contributors for their ongoing collaboration and perseverance. In particular, we thank the advisory group, who worked diligently to ensure the project moved forward, and the Emerald Mechanics Institute, who managed community programs at the former hall over the past 25 years.