Skate parks and BMX tracks
Coronavirus COVID-19 update
If you feel well, you can still visit parks and recreation reserves across the shire to use open space areas for exercise and fresh air.
As of Tuesday 26 May, outdoor playgrounds, skate parks and outdoor gym equipment will reopen. BMX tracks remain open. This is in line with Victorian Government recommendations
We will work to remove 'closed' signs and tape from our playgrounds, skate parks and outdoor gym equipment as quickly as we can from this date.
BBQs are not allowed to be used, but you can use picnic tables and seating.
At all outdoor locations, Victorian Government regulations regarding recreation activities must be followed - groups of no more than 10 people are allowed, and physical distancing must be maintained.
Casual bookings for weddings, funerals and gatherings in our outdoor spaces and recreation reserves can now be made, as long as they meet the Victorian Government guidelines.
Our skate parks and BMX tracks
This page features a list of all skate parks and BMX tracks in Cardinia Shire.
Facilities vary in size and level of difficulty.
BMX tracks
Beaconsfield
Kath Roberts Reserve
Kathleen Court
View location in Google Maps
Holm Park Recreation Reserve
100 Beaconsfield–Emerald Road
View location in Google Maps
Bunyip
Koolangarra Park
5–10 Railway Avenue
View location in Google Maps
Bunyip Sanctuary
Doran Road
(includes main track and pump track)
View location in Google Maps
Emerald
Pepi's Land
Beaconsfield–Emerald Road
(next to railway)
View location in Google Maps
Garfield
Greenland Court Reserve
Archer Road
View location in Google Maps
Nar Nar Goon
Nar Nar Goon Recreation Reserve
Spencer Street
(on west boundary, north of the junior cricket oval)
View location in Google Maps
Pakenham
Homegarth Reserve
Dunbarton Drive
View location in Google Maps
Atkins Road Reserve
Atkins Road (north west corner of reserve)
View location in Google Maps
Toomuc Creek Linear Reserve
Edenbrook entry
Corner of Edenbrook Circuit and Henry Road
View location in Google Maps
Upper Beaconsfield
Upper Beaconsfield Recreation Reserve
Stoney Creek Road
View location in Google Maps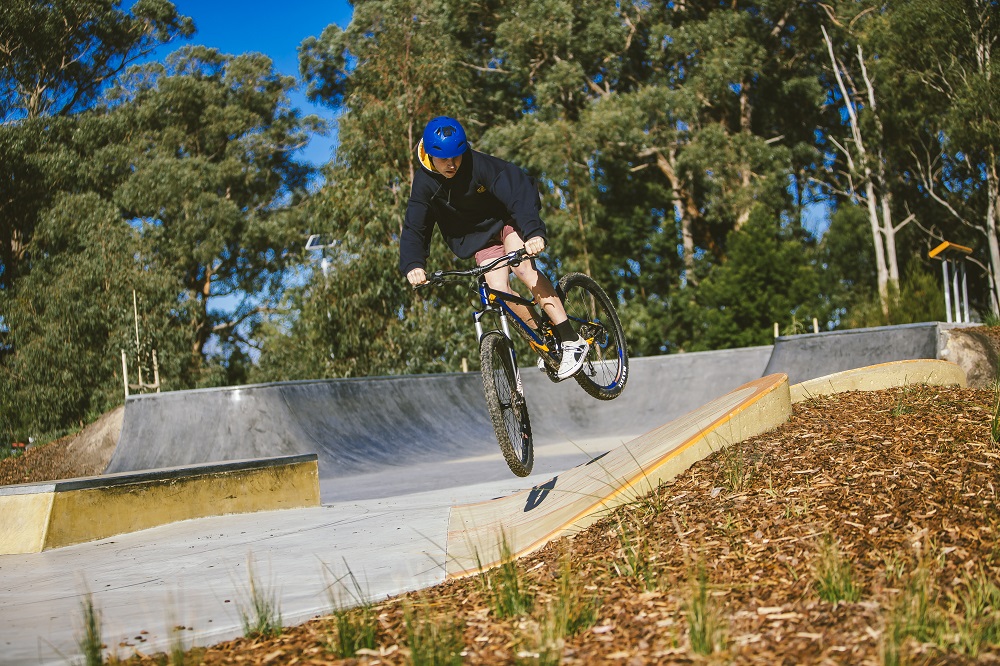 Skate parks
Beaconsfield
Holm Park Recreation Reserve
100 Beaconsfield–Emerald Road
View location in Google Maps
Cockatoo
Alma Treloar Reserve
(next to Neighbourhood House)
Pakenham Road
View location in Google Maps
Garfield
Garfield Recreation Reserve
40 Fourteen Mile Road (corner of Beswick St)
View location in Google Maps
Gembrook
Gembrook Regional Playground
4 Gembrook Road
View location in Google Maps
Koo Wee Rup
Cochrane Park
243 Rossiter Road
View location in Google Maps
Lang Lang
Dick Jones Reserve
Westernport Rd (corner of Rosebery Street)
View location in Google Maps
Pakenham
PB Ronald Reserve
John Street
View location in Google Maps