Port Ward Councillors
Cr Ray Brown
Mobile: 0419 953 198
Email Cr Brown
I have lived in the region since 1970. I have served on many committees, usually in a lead role, and value volunteers and groups and committees that provide support and activities for others.
I am passionate that infrastructure, buildings, roads, footpaths and drains are properly maintained.
Social and work isolation is an issue in Port Ward and I will work hard to address this problem. I support improved sporting facilities and small business. I have a reputation for getting things done and will continue to do so across the community. Our towns are growing, so appropriate facilities must also grow.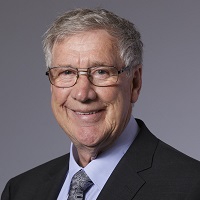 Cr Graeme Moore
Mobile: 0400 167 844
Email Cr Moore
I have always been a driving force in the community. My role is to ensure Council provides infrastructure, responsible development, environmental stability and agricultural security, well-planned roads and a drainage maintenance program.
Proven skills in communicating, negotiating, networking and problem solving will help me to identify local concerns and bring them to the Council table to find positive solutions as well as negotiating with members on State and Federal levels for additional funding.
I am keen to continue the successful work achieved thus far and create future opportunities to ensure value for the community, securing job and business opportunities for the district.