Cardinia Food Forum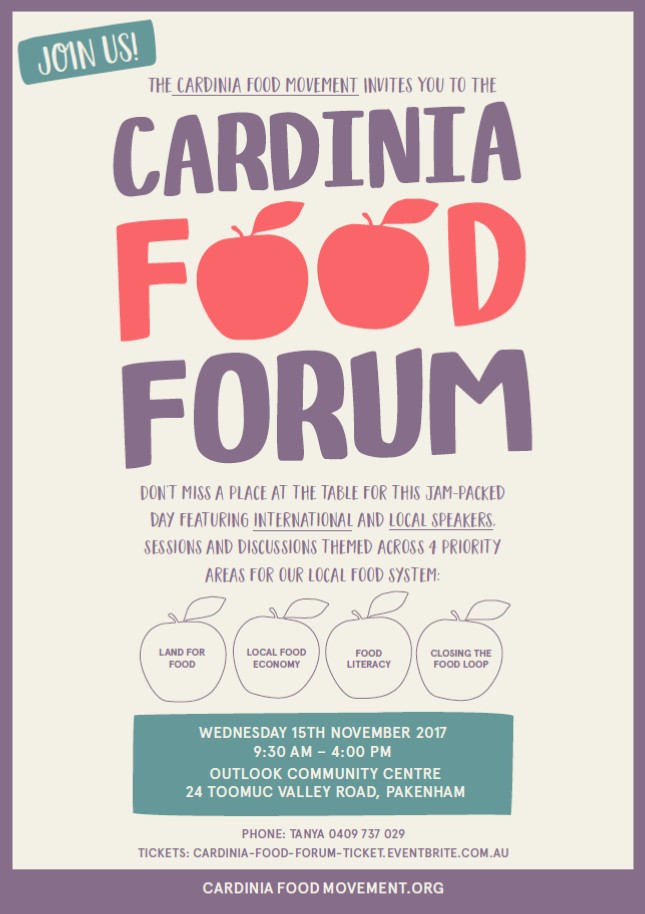 Date: 15 November 2017
Location: Outlook Community Centre , 24 Toomuc Valley Road, Pakenham
Time: 9.00am–4.00pm
Cost: $25
Get inspired at the Cardinia Food Forum where you'll hear from international and local speakers wanting to transform our local food system.
Don't miss a place at the table for this jam-packed day featuring international and local speakers, workshops and discussions focusing on four themes:
Protecting Land to Grow Food
Growing a Vibrant Local Food Economy
Enhancing Food Skills, Knowledge and Culture
Closing the Food Loop: Waste, Water and Space.
This event is relevant for food businesses, health workers, government, teachers, farmers, environment groups, community gardeners, neighbourhood houses, community groups and anyone else with an interest in food!
Renowned food entrepreneur Devita Davidson of FoodLab Detroit is the keynote speaker.
Get you tickets here: https://www.eventbrite.com.au/e/cardinia-food-forum-tickets-38859695395?err=29
For more information contact Tanya Massy by emailing tanya@sustainaustralia.org or calling 0409 737 029.