Have your say on proposed Amendment C244 to the Cardinia Planning Scheme
Closing date for submissions
5pm, Tuesday 6 November 2018.
About proposed Amendment C244 to improve car parking in the Pakenham Activity Centre
Following community consultation from January to March 2018, a modified version of the Pakenham Parking Precinct Plan (May 2018) was adopted by Council in May 2018, in response to community feedback.
Amendment C244 proposes to implement the objectives of the Pakenham Parking Precinct Plan (May 2018) by applying the Parking Overlay to Pakenham's central business area (Pakenham Activity Centre).
Key points
The Parking Overlay allows Council to collect a financial contribution from commercial and business landowners in Pakenham's central business area who apply for, and are issued with, a planning permit to waive or reduce car parking spaces on their property.
If a landowner is not issued with such a permit, then no financial contribution is required to be paid.
This amendment does not apply to residential properties.
Why are we proposing this change?
As Pakenham Activity Centre develops, it is important to make sure there are enough car spaces to meet demand.
The Parking Overlay will help us improve existing public car parking spaces and provide additional car parking facilities to meet future demands.
We also plan to install more wayfinding signs and increase awareness of car parking options in the Pakenham Activity Centre.
Properties affected by the proposed amendment
Land identified as having commercial and business capabilities within the Pakenham Activity centre is shown on this map.
View a large version of the map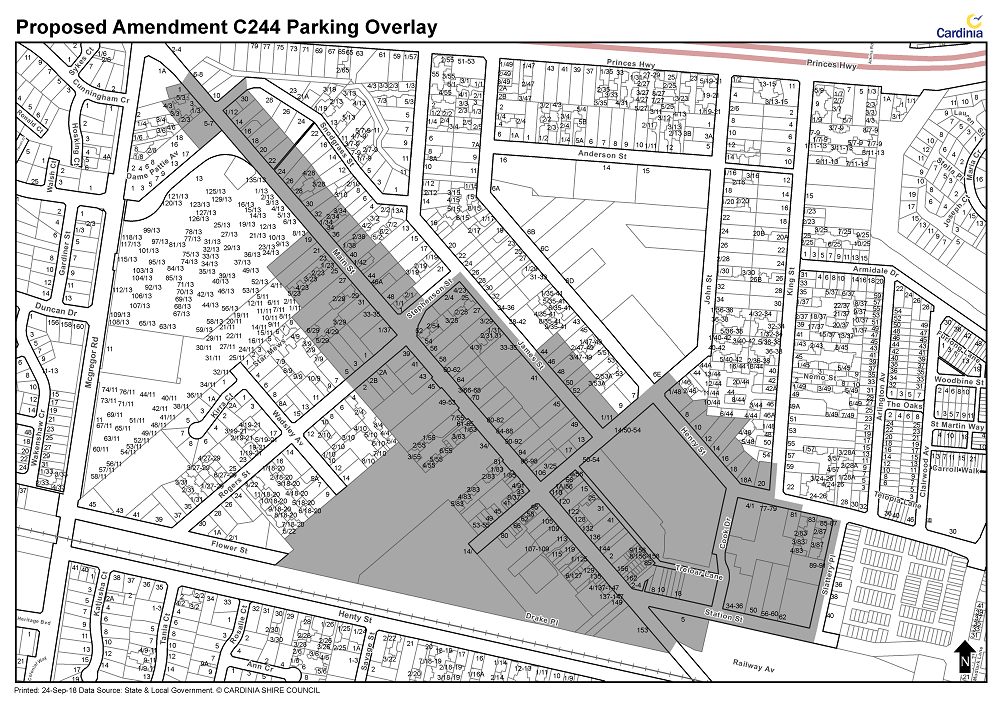 About the proposed financial contribution
How much is it?
$12,000 (excluding GST) per car space. The rate will be adjusted on 1 July each year by applying the Building Price Index for Melbourne as given in the Rawlinson's Australian Construction Handbook.
How was this figure calculated?
The Victorian Government's Practice Note on the Parking Overlay specifies that Council can only require payment for car parking which reflects the cost of providing a car space.
This figure was determined by reviewing recent car park constructions, whilst keeping in mind that car parking in town centres is shared with users, and that it is important that the amount is appropriate to encourage development.
What changes are proposed to the Cardinia Planning Scheme?
Amendment C244 seeks to:
amend Clause 21.04 - Economic development to insert the Pakenham Parking Precinct Plan (May 2018) as a reference document.
introduce Clause 45.09 - Parking Overlay and a schedule to the Parking Overlay (Schedule 1).
introduce new Parking Overlay maps (Map No.s 14PO, 15PO, and 17PO).
amends the Schedule to Clause 72.03
View the draft amendment
Proposed Amendment C244 to the Cardinia Planning Scheme is now on exhibition.
Online
To view proposed Amendment C244 to the Cardinia Planning Scheme go to the DELWP website.
Go to the DELWP website to view draft amendment
Hard copy
You can also view it in hard copy during office hours, at no cost, at:
our Customer Service Centre, 20 Siding Avenue, Officer
Pakenham Library, corner John Street and Henry Street, Pakenham.
How to give feedback
Anyone is welcome to provide a written submission on the proposed amendment by 6 November 2018.
All submissions must be made in writing and submitted to Council.
Please note: Submissions to amendments are public documents under the Planning and Environment Act 1987 (the Act). Section 21(2) of the Act requires a planning authority to make a copy of every submission available at its office for any person to inspect, during office hours and free of charge, for 2 months after an amendment comes into operation or lapses.
Download a form
Download this submission form to make a submission, or you can write your own. You can submit it by email, post or drop it into our customser service centre.
Email
mail@cardinia.vic.gov.au (Subject line: Amendment C244 Submission)
Post

Cardinia Shire Council
Amendment C244
Strategic Planning Team
PO Box 7
PAKENHAM VIC 3810

In person

Council's Customer Service Centre
20 Siding Avenue
Officer
Next steps
Council must consider all submissions as part of the amendment process.
If concerns cannot be resolved by making changes to the amendment, Council may refer submissions to an independent planning panel (appointed by the Minister for Planning) for review.
The planning panel will review each submission individually and provide a report with recommendations to Council and the Minister for Planning.
Preset hearing dates have been set:
Directions Hearing: Week starting 18 March 2019
Panel Hearing: Week starting 15 April 2019
Further details about any Planning Panel hearing and specific dates will be provided at a later date to those who make a submission.